Ubisoft Reveals For Honor's Ghostly New Hero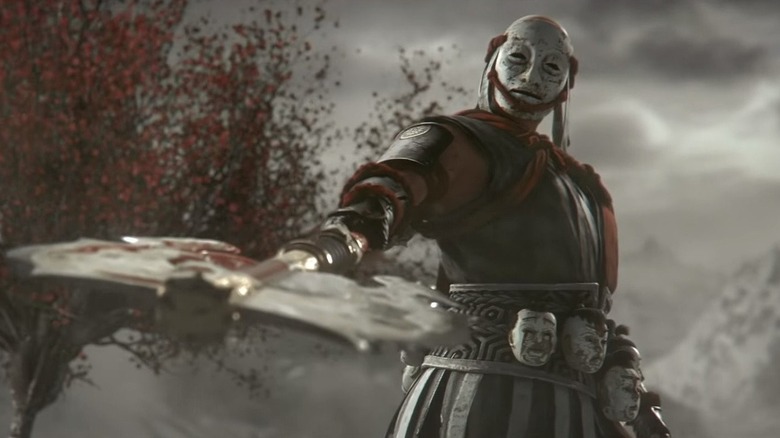 Ubisoft has announced that the Hitokiri, the latest Hero slated to join the growing For Honor roster, will arrive alongside Year 3, Season 2 on May 2. A dark Samurai Hero, the Hitokiri includes playable male and female counterparts, Yato and Sakura. The official For Honor website describes the Hitokiri as "ghostly warriors" who "roam the land searching for criminals to execute with their deadly Masakari axe. On the battlefield, their mere presence spreads fear to any opponent foolish enough to confront them." 
Resembling the opening sequence of a Sekiro: Shadows Die Twice boss fight, Sakura's reveal trailer does a great job capturing the "ghostly warrior" angle. Sharpening her axe, the masked fighter assures in a rasping voice: "You no longer need to suffer. I offer you peace and salvation." As mist swirls around her, Sakura brandishes her weapon for a final swing, declaring, "Be not afraid. Your soul is now mine." 
Each season of Year 3 will introduce a new Hero. Preceded by the Black Prior in Season 1, the Hitokiri will be the second Hero to join the lineup in 2019. Year 3 Pass owners can play the Hitokiri at launch; all other players will have to wait until May 9 to purchase the Hero using in-game steel. Season 2 will also include Lawbringer and Raider improvements and a new map called Canopy. 
For Honor received mostly positive reviews following its release on Windows, PlayStation 4, and Xbox One in February 2017. According to IGN, it was the best-selling game in the US during its launch month, and in October 2018 Ubisoft announced it had surpassed 15 million players. 
Ubisoft has titled the upcoming season Sakura, indicating the Hitokiri will feature heavily in whatever the developer has in store. For a peek at what's on the way, you can check out the Warrior's Den livestream on April 25 at 9 a.m. PDT.