Red Faction: Guerrilla Re-Mars-Tered Is Headed To Switch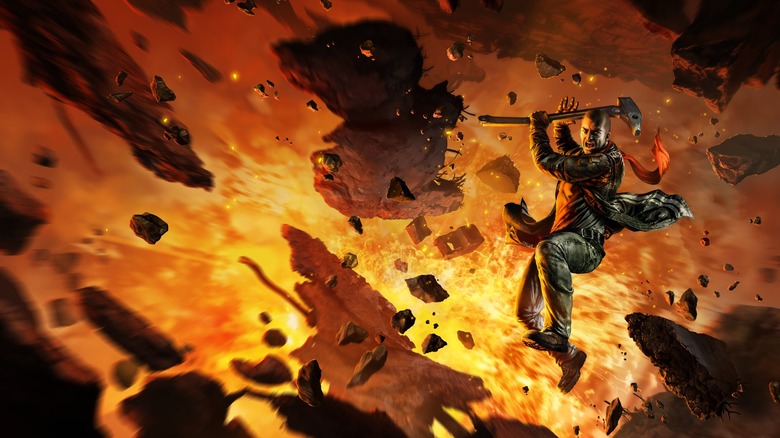 The remaster with the worst name in the world is getting a port to the Nintendo Switch. THQ Nordic announced today that Red Faction: Guerrilla Re-Mars-tered will hit the Switch this summer, bringing its destructive action to Nintendo's hybrid console.
Advertisement
You can check out a trailer of the Switch version here, and you might be surprised — because it actually looks really, really good. Granted, capture was almost certainly taken from the game in docked mode, and doesn't speak to how Re-Mars-tered will play portably. But based on this tiny bit of footage, Switch owners have a lot to be hopeful about.
In terms of solid details on the port, Gematsu shared some of that. Players can look forward to options for graphics — a choice between Performance mode and Quality mode — as well as tailor-made visuals for the Switch version, better shadows, better lighting, and behind-the-scenes tweaks for shaders and post-processing.
In addition, Red Faction: Guerrilla Re-Mars-tered is also getting support for motion controls on Switch. Motion controls will likely work as they do in Splatoon 2 and pretty much every other game that uses them — move your Switch or your controller around and let the gyroscope be your guide.
Advertisement
It's been a while since we've seen a new Red Faction game. Re-Mars-tered released in the summer of last year, but before that, the last new entry to the franchise came with 2011's Red Faction: Armageddon. These days, the THQ releasing Red Faction remasters isn't the same one that released the original games, and one has to wonder if THQ Nordic will ultimately give the series another shot.
Until then, we have what amounts to our first version of a Red Faction game that's playable on a portable Nintendo console. Wait — there was another portable Red Faction game? Indeed — a forgettable version of the original Red Faction made its way to the Nokia N-Gage back in 2003. We have a feeling this one is going to turn out a little better than that.
Red Faction: Guerrilla Re-Mars-tered comes to the Nintendo Switch on July 2.