New Trailer Provides Crash Course On Rage 2's 'Shooterverse'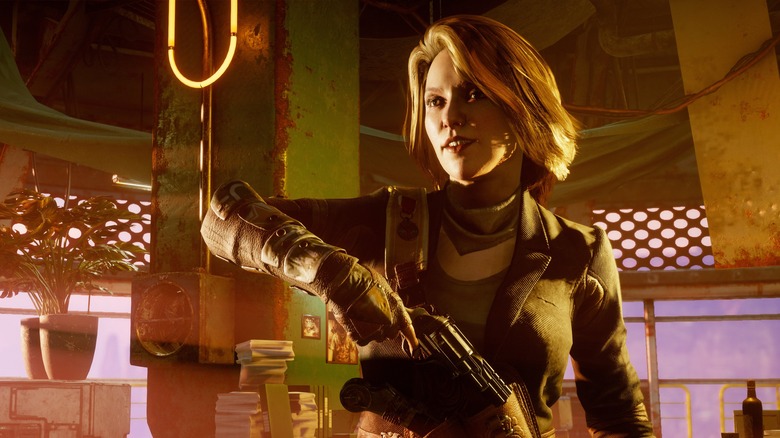 What is Rage 2? The latest trailer from Bethesda aims to answer that question, providing a summary of what the game has to offer: "Rage 2 is an insanely wild open-world shooter where if you see it, you can drive it ... or shoot it." For those who haven't played the original game, Rage 2 takes place in a post-apocalyptic setting. Since an asteroid destroyed most of the planet over a hundred years prior, humanity has struggled to survive and adapt. New factions and settlements have emerged, yet anarchy still reigns.
According to the trailer, you play as the Last Ranger on a quest for revenge. To get it, you must fight your way through the game's many groups: the Authority, Goon Squad, Immortal Shrouded, River Hogs, and Abadon Mutants. You'll have an impressive arsenal to choose from while pursuing your goals, including the Grav-Dart Launcher, Firestorm Revolver, Hyper Cannon, Charged Pulse Cannon, Smart Rocket Launcher, and iconic Wingstick. 
While big guns are always fun, your most impressive assets are the Last Ranger's upgradable superpowers: Shatter, Slam, Vortex, Dash, and Overdrive. The trailer also shows off several "family friendly" activities, including ark hunting, convoy battles, Mutant Bash TV, Chaz Car Derby, and "weird $#!%." 
According to the official website, Rage 2 "brings together two studio powerhouses — Avalanche Studios, masters of open world insanity, and id Software, creators of the first-person shooter — where you can go anywhere, shoot anything, and explode everything." Sporting a neon palette and larger-than-life attitude, the game aims to deliver on the ambitions set forth in 2010's Rage. "It's more than a shooter, more than an open-world game — it's a shooterverse," explains the Rage 2 PlayStation listing.
Rage 2 releases on PlayStation 4, Xbox One, and PC on May 14. According to early hands-on previews, players can expect a wild ride filled with satisfying, intense combats and breathtaking scenery. Though critics have said the driving mechanics could use some adjustments, it looks like Rage 2 may live up to its insanity-fueled expectations.