Backpacks Coming To Fallout 76 With May 7 Update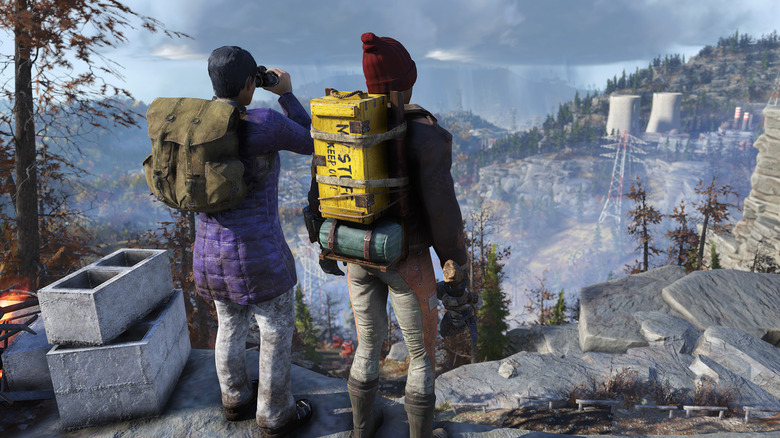 Bethesda has shared a preview of Fallout 76's upcoming "Ever Upwards!" Wild Appalachia update. The update focuses on the Pioneer Scouts, a Boy Scouts-inspired organization devoted to self-improvement and community betterment. Faced with reduced numbers, the Pioneer Scouts have decided to accept recruits of all ages. 
Players interested in joining can check out the Pioneer Scouts posters in train stations around Appalachia or unlock one for their C.A.M.P. via the Atomic Shop thru June 9. "As a novice Tadpole, you will need to prove you've embraced the Pioneering lifestyle by completing activities that demonstrate their core values: kindness, helpfulness, bravery, and growth," says the official website.
Tadpoles earn badges by mastering activities such as swimming, archery, and cooking. They can then trade in these badges at Pioneer Scouts vending machines for themed swag. Following their promotion to the rank of Possum, players will unlock tougher badge quests and gain their first backpack, a new item launching with the update. Pioneer Scouts recruits can also head to Camp Adams to hear about the "Terrors of the Dark." Though the details are vague, this seems to be a campfire story-themed side-quest in which you'll face "real creepy creatures that may be lurking in the shadows."
Functional and fashionable, backpacks increase your carry weight. Players can also mod their backpacks to better suit their needs. Craftable mods will include armor plating and refrigeration. Though handy, some of these enhancements decrease the amount of bonus storage provided by the backpack. Backpacks remain visible over outfits and armor, excluding Power Armor.  
The "Ever Upwards!" update arrives with Patch 9 on May 7. Bethesda has also announced Fallout 76's second Double XP event which started yesterday at 12 p.m. EDT and will run until 6 a.m. EDT on Monday, April 29. Players will earn twice the XP in both Survival and Adventure Mode during this time frame.