Black Ops 4 Teases New Specialist In Operation Spectre Rising Trailer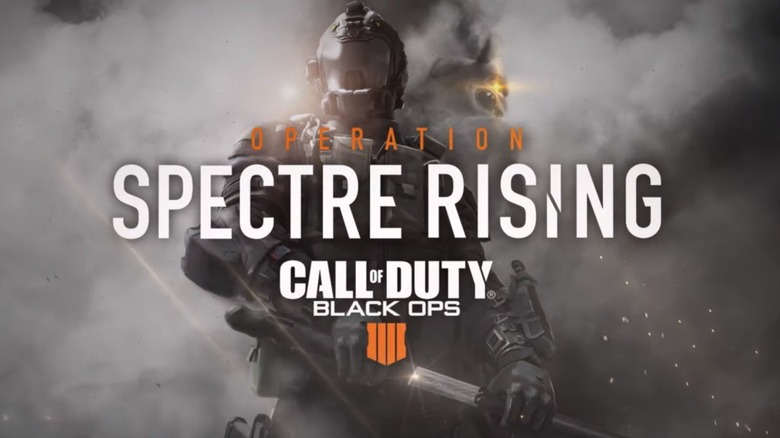 Treyarch has released a new Call of Duty: Black Ops 4 trailer for its upcoming Operation Spectre Rising. The Operation will introduce a new Specialist alongside a host of other content and items.
Armed with a Katana and smoke grenades, Spectre, the latest Specialist, makes a comeback from their appearance in Black Ops 3. The reveal trailer establishes the character's creed: "No words. No warning. Just carnage." Spectre acts as a free agent, carrying out assassinations with surgical precision. Their true identity remains unknown, with Spectre serving as a collective codename used by agencies who have determined their existence by studying unsolved assassination cases.
Spectre Rising will also introduce three new maps. Artifact incorporates an archaeological dig site in Southern Iceland, sending players into a maze of crags and caverns to secure a valuable relic. Masquerade, set in Rajshahi, Bangladesh, unfolds in the winding streets and staggered rooftops of the city as players track and take out enemy HVTs. WMD tasks players with securing a weaponized Nova-6 gas plant in Mount Yamantau, Russia. 
The new Wetworks Map Update is bound to make a splash, featuring underwater components in the wake of the flood unleashed by an explosion at Hydro Dam. The announcement trailer also promises new characters, outfits, camos, charms, and 3 new weapons: the Ballistic Knife, Tigershark LMG, and Nifo'oti Club. Three new Modes — Bounty Hunter, Prop Hunt, and Zombies Gauntlets — will further liven up the party.
Operation Spectre Rising arrives on the PlayStation 4 on April 30, seven days before hitting Windows and Xbox One. Some content, including the multiplayer maps, will require the Black Ops Pass to access. Call of Duty: Black Ops 4 released to positive reviews in October 2018, though microtransactions and loot boxes introduced in subsequent updates drew criticism from fans. According to Eurogamer, Black Ops 4 has proven to be Activision's biggest digital release despite this controversy.