Star Citizen Offering Week-Long Free Fly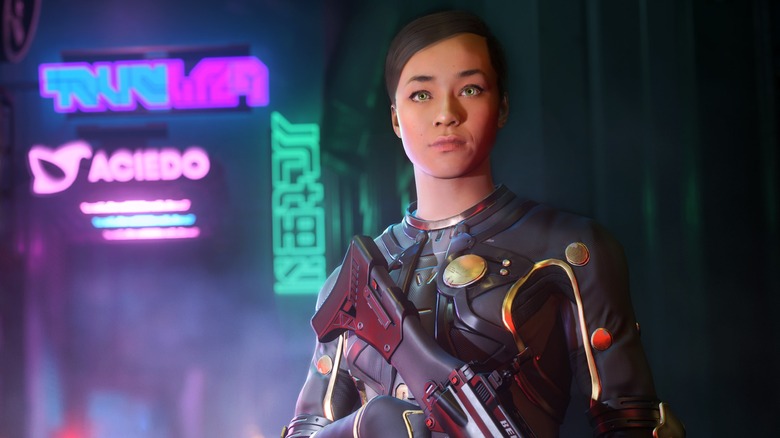 Star Citizen is offering a free week of flying to highlight the additions that arrived with the recent 3.5 Update. Everyone can download the client and take to the skies between now and May 8. "Experience the white-knuckle thrill of space combat, discover the majesty of alien worlds, interact with fascinating characters, and build a life in the year 2949," beckons the official announcement.
Advertisement
Update 3.5 has a wealth of new features to offer, including new ships, a shiny new flight control system, improved customization options, and female playable characters. Free fly visitors will have access to five of the game's vehicles: Dragonfly Black, Arrow, Avenger Titan, Cutlass Black, and Prospector. ArcCorp, Star Citizen's newest planet, will also be open for exploration. An endless sprawl of neon-drenched skyscrapers and bustling plazas, the planet boasts a host of diversions to keep you occupied.
For those unfamiliar with the title, Star Citizen is a massive multiplayer space simulator first announced in 2012. The game has raised millions of dollars via crowdfunding campaigns, earning it the Guinness World Record in 2015 for the "largest single amount ever raised via crowdsourcing." Despite the success of its fundraising, Star Citizen has experienced several setbacks in the form of criticism, delays, feuds, and lawsuits. Originally slated for launch in 2014, the game is still in active development.  
Advertisement
Squadron 42, a single-player narrative-driven campaign set in the same universe, is also in development, with the beta planned for release in Q2 2020. "This next-generation, sci-fi epic set in the Star Citizen Universe features an award-winning cast starring in a cinematic story where you fly, battle, and explore alongside the United Empire of Earth's best Naval pilots and Marines," says the official Squadron 42 description.
Head to the Star Citizen website to start your adventure before the free fly ends on May 8.