Bloodstained: Ritual Of The Night Set To Release In June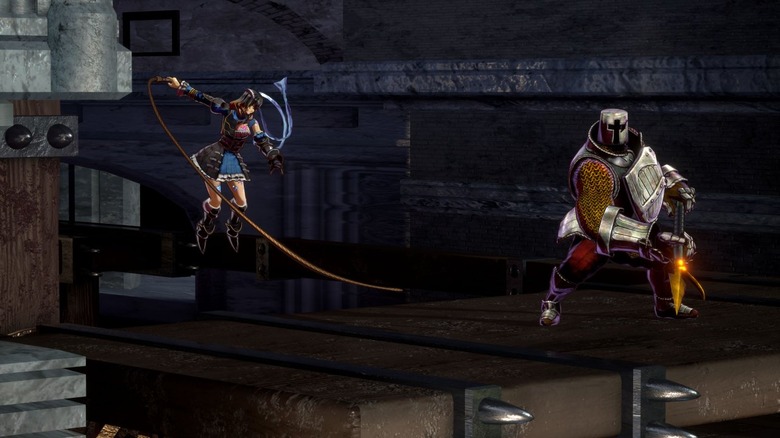 Fans of the Castlevania series, take note: Bloodstained: Ritual of the Night, which is considered to be a spiritual successor to Castlevania, now has a release date. Or, if you want to be more technical about it, many release dates. Fortunately, they're all in June.
If you plan on purchasing Bloodstained digitally, you'll be able to do that for PC, PlayStation 4, and Xbox One on Tuesday, June 18. The Nintendo Switch digital release will follow a week later on Tuesday, June 25. If you're looking to pick up Bloodstained at retail, however, you'll have to mark a few different dates on your calendar. PlayStation 4 and Xbox One owners will be able to walk into their store of choice and buy the game on June 21. Nintendo Switch owners can do the same a week later, on June 28.
It appears the team behind Bloodstained: Ritual of the Night studied at the Anthem school of overly complicated release schedules.
Don't let that scare you away from the game, though. It boasts longtime Castlevania developer and producer Koji Igarashi as its driving force, and even features a soundtrack from two powerhouse composers: Michiru Yamane, who worked on Castlevania: Symphony of the Night; and Ippo Yamada, who scored Resident Evil. And by the looks of it, it's every bit the modern-day Castlevania that series die-hards have been hoping for.
Here's a description of the game, courtesy of a press release sent out on behalf of publisher 505 Games earlier today: 
Bloodstained: Ritual of the Night is set in 18th century England – a paranormal force has summoned a demon-infested castle, revealing crystal shards infused with tremendous magical power. Players take on the role of Miriam, an orphan scarred by an alchemist curse which slowly crystallizes her body. To save humanity and herself, Miriam must fight through the castle while collecting, crafting and unlocking a vast array of weapons, equipment and loot to defeat the summoner Gebel and the countless minions and bosses of hell that await.
This definitely sounds like something that'll fill the Castlevania-sized hole in your heart. Hopefully it plays as good as it sounds.
Bloodstained: Ritual of the Night releases this June across multiple platforms.