Earn Rewards With Bethesda's New Doom Slayers Club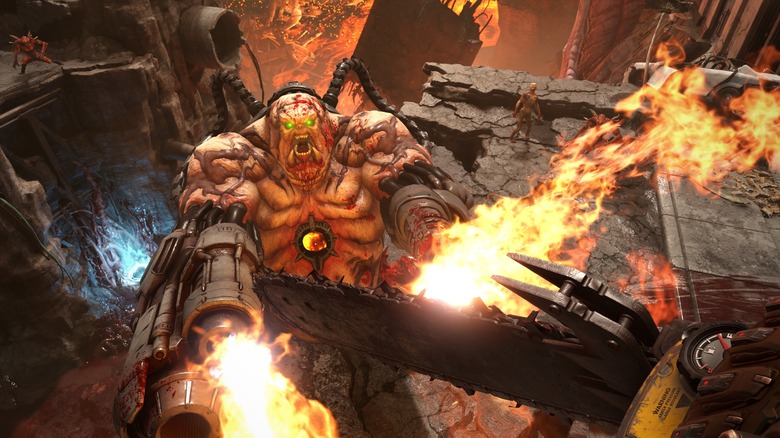 Bethesda has introduced the all-new Slayers Club as part of their Year of Doom, a massive celebration honoring the franchise's 25th anniversary.
Slayers Club members can earn Slayer Points by performing tasks on the official website. Earning opportunities include completing in-game challenges, watching videos, and submitting fan art. Once a member has earned enough points, their Slayer Rank will increase. There are 15 ranks, each accompanied by a special icon.
Advertisement
By ranking up, members have the chance to unlock discounts and special in-game content, including Slayer skins for the upcoming Doom Eternal. Bethesda will also host a monthly prize pool with a variety of Doom-flavored rewards up for grabs, including vinyl soundtracks, t-shirts, and custom consoles. Slayers Club members accumulate one entry for that month's giveaway for every 20 Slayer Points they earn. 
Doom, Eternal's 2016 predecessor, received critical acclaim for its single-player campaign, fast-paced gameplay, and impactful soundtrack, and visual design. The game's multiplayer modes proved less popular, garnering a mixed reception from critics. According to DualShockers, the game had sold over 2 million copies on Steam as of July 2017.
Advertisement
Doom Eternal does not have an established launch date. In the event's official announcement, Bethesda promised an "in-depth look" at Eternal as part of their E3 Showcase on June 9. The game will release on Windows, PlayStation 4, Nintendo Switch, and Xbox One. In March, the team tweeted that Eternal was also coming to Google's Stadia featuring 4K with HDR and 60fps.
While you're waiting for more news about the game, you can head over to the Slayers Club website to get your Doom fix. Between the articles, fan art, upcoming events, id Software Spotify playlist, and official Discord server, there's a lot to check out. Bethesda has also announced the prizes for the club's May giveaway, which include a custom Doom Nintendo Switch.