Microsoft Teases New Augmented Reality Minecraft Game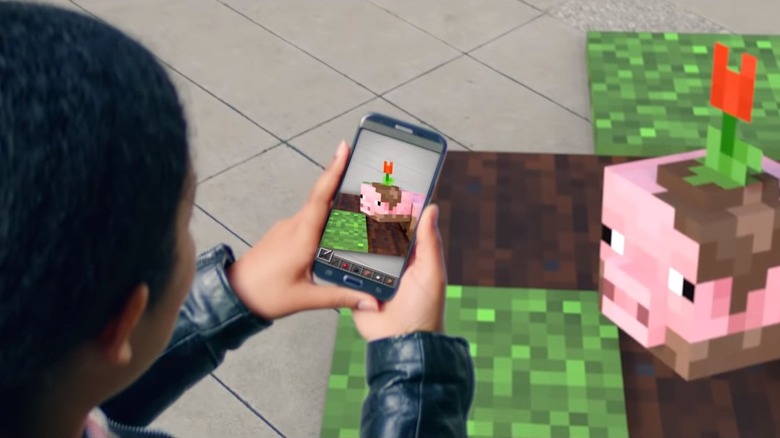 Microsoft has teased a new augmented reality version of Minecraft for your mobile device. The video clip which Microsoft shared via Twitter following their Build 2019 keynote, shows Minecraft creative director Saxs Persson leaving his phone on a bench outside of the Washington State Convention Center. A woman picks up the phone, discovering Minecraft running in AR.
This is not the first time Minecraft has ventured into augmented reality. Back at E3 2015, Microsoft debuted a Minecraft demo on the Hololens, their mixed reality headset. In the demo, you could play Minecraft on your wall or coffee table, transferring it between surfaces. You could also manipulate the world using your voice and hands, raise it to view new details, and even command lightning strikes to rain down from the sky.
As of January 2018, Minecraft had sold over 144 million copies across all platforms, making it the second best-selling game of all time behind Tetris; an impressive feat for a game that started out as a side project for creator Markus "Notch" Persson. Microsoft acquired Mojang, Persson's development company, alongside the Minecraft intellectual property for $2.5 billion in 2014.
The main Minecraft game has gone through several releases, including console and mobile ports and an educational version used by schools to teach math, coding, and chemistry in classrooms. In October 2015, Telltale Games released Minecraft: Story Mode, a standalone narrative version of the game, in conjunction with Mojang. In September 2018, Microsoft announced Minecraft: Dungeons, a new Minecraft-themed dungeon crawler scheduled to release on PC in 2019.
It's unclear whether Microsoft will launch another spinoff or use a Minecraft adaptation to show off the new augmented reality feature. Fans can tune in to the Minecraft website on May 17 for more information.