Dragon's Lair Trilogy Coming To Xbox One Next Week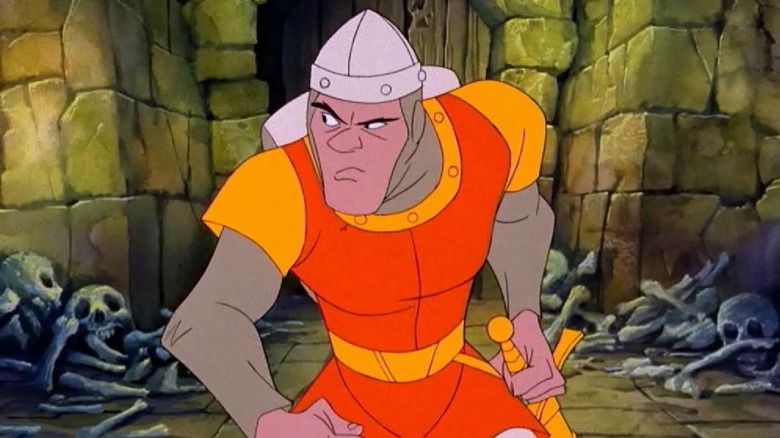 The Don Bluth arcade classics Dragon's Lair, Space Ace, and Dragon's Lair 2: Time Warp are coming to Xbox One next week. Packaged together as the Dragon's Lair Trilogy, all three games have been "remastered and updated for modern audiences" according to publisher Digital Leisure.
In Dragon's Lair, you play as Dirk the Daring, a brave knight on a quest to rescue Princess Daphne from an evil dragon. The unrelated Space Ace centers on Ace, space warrior and defender of the planet earth, as he faces off against the sinister Commander Borf. Dirk returns in Dragon's Lair 2: Time Warp after an enterprising wizard captures Princess Daphne and disappears into a wrinkle in time. Each game features a unique, hand-animated movie. Players take control of the title's hero, completing unforgiving quick-time events to progress through the story. 
A movie adaptation of Dragon's Lair partially funded by an Indiegogo campaign has been in the works since 2015, with animation legends Don Bluth and Gary Oldman leading the charge. According to IMDb, the feature film will release on May 1, 2020 in the United States. The project will expand on Dirk and Daphne's personalities and backstories.
The original Dragon's Lair came to arcades in 1983. Taking advantage of laser disc technology, Dragon's Lair featured superior graphics to most other games available at that time. "It was the first laser disc interactive game and the first time ever that the arcade gamers were playing an interactive short movie with classical hand-drawn animation," said Gary Oldman. "It drew crowds who just wanted to watch others play the game. Actually, it put our company name, Don Bluth Productions on the map." 
The Xbox One port is the latest in a long sequence of re-releases spanning multiple generations of consoles. Fans can download the Dragon's Lair Trilogy for $19.99 via Xbox Live starting May 17, 2019.