Red Dead Online Comes Out Of Beta, Adds A Bunch Of New Content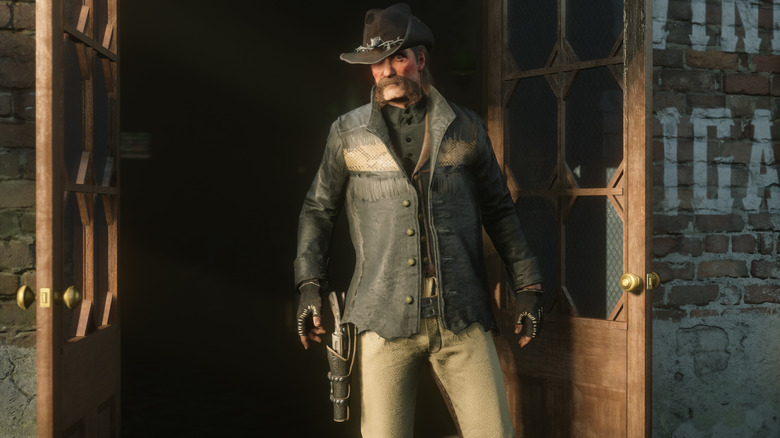 After spending several months in beta, Red Dead Online is finally ready to hit the open road.
Rockstar announced today that Red Dead Online is coming out of beta, a fairly big step for the studio's online open world to take. But believe it or not, that's not even the biggest news Rockstar had to share today. That's because the company also issued a huge update for Red Dead Online, adding a slew of new features, missions, and gameplay modes, all of which we'll detail below.
To start, those who've been enjoying the storyline in A Land of Opportunities will find that several new missions are available to complete, whether you're the world's most honorable gunslinger or walking Old West scum. These apparently include some co-op missions, as well, so you can bring a friend along for the ride. There are also brand new free roam missions that, according to Rockstar, include "new characters from the story of Red Dead Redemption 2." Color us intrigued.
Competitive fishing makes its debut inside Red Dead Online, and no, you did not read that wrong. It's one of the new Posse Versus Challenges being added to the game, along with a Bird Shooting Contest and an Herb Picking Contest. Of course, if you'd like something a little more high stakes, poker tables are now available in various locations around the open world. These seat six players apiece, can host private or public games, and can be found in Blackwater, Saint Denis, Tumbleweed, Valentine, and Flatneck Station.
And finally, a new Overrun Showdown is making its debut in this Red Dead Online update. Here's what you'll be asked to do:
Mark your territory and lay claim to as much land as you can, working your way behind enemy lines to capture territory from your opponents while defending what's yours. Whoever holds the most land at the end of this new Showdown Mode wins.
Aside from the new content, you'll also find that some much-needed tweaks are being made to Red Dead Online. The mode now has Offensive and Defensive playing styles, enabling players to choose whether they want to scuffle with others or explore the world in peace. Updates to the Hostility System ensure that no one is penalized when trying to defend themselves. And those who exhibit increasingly hostile behavior — to the point of griefing others — will find that the game is less friendly to that sort of nonsense.
Add all that to a long list of balance changes and you have yourself a rather sizable update; one the game really needed. There's more coming, too, as Rockstar plans to add several new modes and events over the course of the coming weeks. And when summer arrives, players will even have the option of playing roles, turning their characters into bounty hunters, traders, or collectors.
If you played the early days of Red Dead Online and decided it wasn't for you, there might be enough here to consider giving it another shot. The mode certainly launched with a lot of potential; with these updates, and with the roleplaying options coming in the summer, Red Dead Online might actually reach it.