RPG Card-Battler SteamWorld Quest Heads To PC On May 31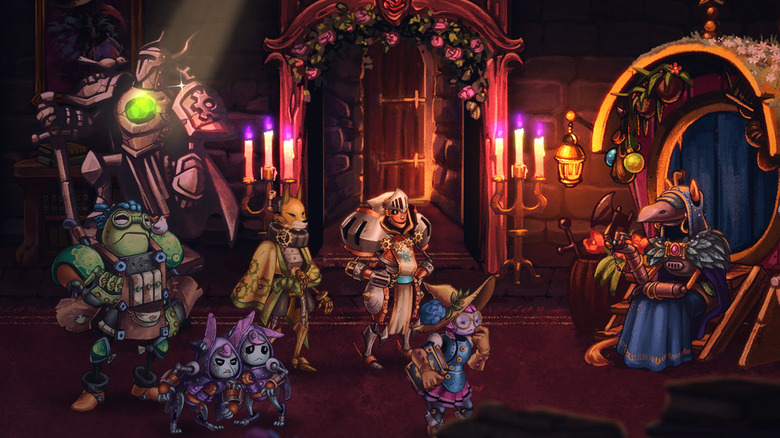 Image & Form Games' RPG card-battler SteamWorld Quest: Hand of Gilgamech arrives on Steam on May 31. Previously a Switch exclusive, players will soon have the option to enjoy the game on Windows, macOS, and Linux. 
Advertisement
A humorous mix of traditional fantasy elements and steampunk robots, SteamWorld Quest offers a vivid setting for players to explore. "Lead a party of aspiring heroes through a beautifully hand-drawn world and intense battles using only your wits and a handful of cards," invites the official game description. "Take on whatever threat comes your way by crafting your own deck choosing from over 100 unique punch-cards!"
SteamWorld Quest released on Switch on April 25, receiving positive reviews. Kotaku's Ethan Gach praised its card mechanics and charming characters, though, overall, Hand of Gilgamech left him wanting more. "The game's combat system works so well, replacing stilted regimen and predictable routine with player-led creativity and ingenuity, that it's somewhat of a letdown that the game's plot is so predictable and routine," said Gach.
Advertisement
Daniel Tack of Game Informer reached a similar conclusion, complimenting the game's likable characters and accessible card mechanics. "SteamWorld Quest plays it too safe to satisfy hardcore card-crawlers, but the campy characters, gratifying combat, and splashy synergies make it an enticing option for those looking for a traditional turn-based RPG that's easy to wade into," reported Tack.
Beyond the expected achievements and trading cards, the Steam port will be identical to the Switch version of the game. Fans can compete to twin a free Steam key by posting their SteamWorld fan art in the comments section of the official announcement by 11:59 pm on May 28. Image & Form will select three winners after the entry period closes.
For a look at SteamWorld Quest: Hand of Gilgamech's gameplay and mechanics, check out the official PC reveal trailer.