Void Bastards Blasts Onto PC And Xbox One At The End Of May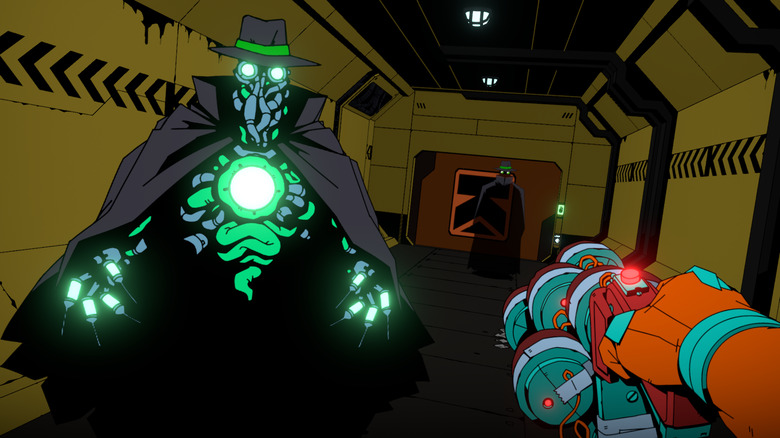 Looks like Borderlands, plays like BioShock; that's the draw behind the upcoming shooter Void Bastards, which is set to arrive very, very soon. According to Eurogamer, Void Bastards is slated to hit PC and Xbox One on Wednesday, May 29. And yes, that is just two weeks away. It'll be here before we know it.
If you're wondering how Void Bastards landed on mixing the BioShock formula with the cel-shaded art used in the Borderlands titles, look no further than Jonathan Chey, the head of the studio behind the title, Blue Manchu. Chey previously worked as the design director on BioShock and System Shock 2, putting time in at both Looking Glass Studios and Irrational Games (the latter of which he co-founded with Ken Levine). And here's a bit of what Chey had to say about coming up with the concept for Void Bastards.
"I love the deep simulational gameplay of BioShock and System Shock 2 – they aren't just run and gun shooters," Chey stated in a press release. "I wanted to find a way to experience more of that gameplay without having to replay the same story over and over. Wrapping the shooter inside a strategy game turned out to be a great way to do that!"
Oh yeah — there's a bit of strategy involved, too.
The folks over at IGN captured 18 minutes of Void Bastards gameplay footage back in December, and made a great comparison to the way the game approaches the strategy side of things. The outlet drew a line between Void Bastards' strategy elements and the game FTL, and honestly, that's a good example to use. Much like you can in FTL, Void Bastards enables you to pull up a map of the ship you're on — and also see the status of other ships in the system — so you can identify problem areas and plot out your path going forward. It definitely adds some variety to what might've otherwise been a corridor-crawling shooter, and it ensures that every single playthrough has unique elements to it.
Plus the game just looks cool. Its comic book art style isn't something you see much in shooters that aren't called Borderlands. Add that to a brand of humor Eurogamer most closely compares to GLaDOS from the Portal franchise and you have a game we really, really can't wait to jump into.
Void Bastards launches on May 29 for PC and Xbox One. Those who subscribe to Xbox Game Pass will have access to the game on day one of its release.