Indie Space Explorer Outer Wilds Hits PC And Xbox Next Week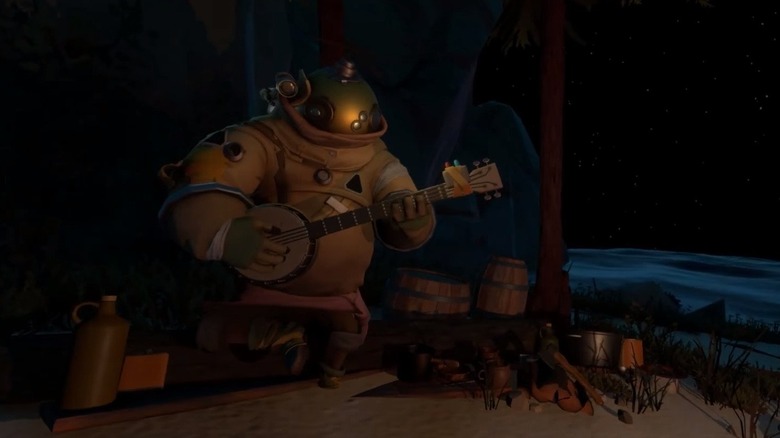 Annapurna Interactive has announced that Outer Wilds will release on Xbox One and the Epic Games Store on May 30.
Created by Mobius Digital, the open world exploration game has spent over six years in development. The title got its start as creative director Alex Beachum's master's thesis and has since evolved into a full commercial project. Beachum and his team drew inspiration from other games and films, including Apollo 13, 2001: A Space Odyssey, and The Legend of Zelda: Majora's Mask.
Like Majora's Mask, Outer Wilds places the player into a time loop, providing 20 minutes of in-game time before the local sun goes supernova. The game then restarts, incorporating information the player uncovered into the next playthrough. "Despite their obvious similarities, I do think the two games use time loops in very different ways," Beachum told Gamasutra. "Majora's Mask creates this complex schedule of events that lets you play around with causality, whereas Outer Wilds' time loop primarily exists to allow the creation of large-scale dynamic systems."
Today's launch trailer highlights Outer Wilds' gameplay, offering players the chance to solve an ancient mystery while exploring a "handcrafted solar system." Though originally slated for a 2018 release, Mobius delayed the game back in December for added polish and stability improvements.
Outer Wilds has encountered other bumps along the way. Earlier this month, Mobius announced their decision to launch the title as a timed Epic exclusive, with additional platforms following later. This decision angered many of the backers who supported the game during its Fig campaign in 2015, as the landing page mentioned a Steam and Linux release. Mobius has since confirmed that backers will receive Steam keys once the game hits the platform. Accusing the developer of false advertising and other disreputable practices, some backers have still petitioned Fig for a refund.