The Dark Pictures: Man Of Medan Sails To PC And Consoles This Summer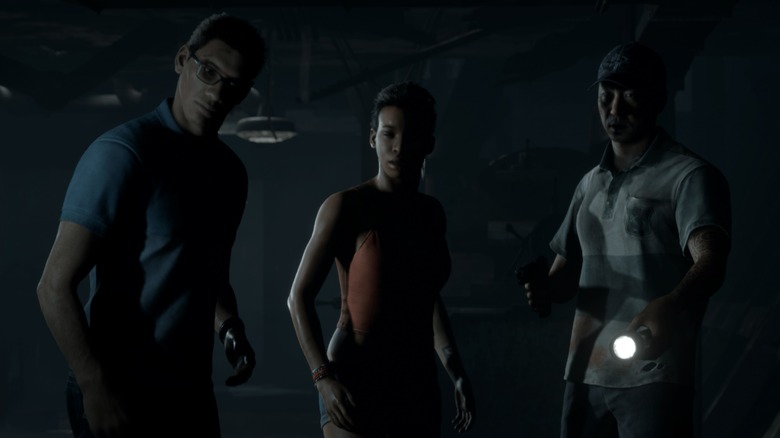 Until Dawn developer Supermassive Games has announced the release date for Man of Medan, the first entry in their Dark Pictures Anthology.
Delving into the depths of supernatural horror, Man of Medan follows five friends as they embark on a diving trip in the South Pacific. Their search for sunken treasure amidst the remains of a WWII wreck goes awry and they find themselves marooned on a ghost ship. Supermassive places the fates of all five companions in the player's hands. "Each choice you make has a consequence which can mean life or death for your character," promises the official description. "Will you keep your head whilst struggling to survive? What decisions will you make?" 
Today's pre-order trailer, titled Repercussions, demonstrates the decisions you must make during the game. Each scenario seems to present two responses for you to choose from, one tied to the head, the other the heart. Things start out innocently enough, with "Flirt" or "Ignore" comprising the first two options. The decisions take a sinister turn as the trailer progresses, with actions like "Hide" or "Run" and "Scream" or "Freeze" hinting at the scenarios Man of Medan has in store.
Anyone who pre-orders the game will receive early access to the Curator's Cut. Releasing for free near the end of November, the DLC will include scenes unavailable at launch and new playable characters. To enjoy the Curator's Cut, you will first need to complete a playthrough of the main storyline.
Game Informer's Kimberley Wallace praised Man of Medan after spending some time with a demo earlier this month. Its many branching paths, emphasis on relationships, rewarding exploration, and intense, split-second decisions were of particular note. She also highlighted Supermassive's talent for keeping players guessing: "The team uses tropes and stereotypes to build out the world and its characters, but then it turns them on their head for some intriguing and shocking outcomes."
Man of Medan launches on PC, Xbox One, and PlayStation 4 on August 30.