Just Cause 4 Announces Spring Update And Los Demonios DLC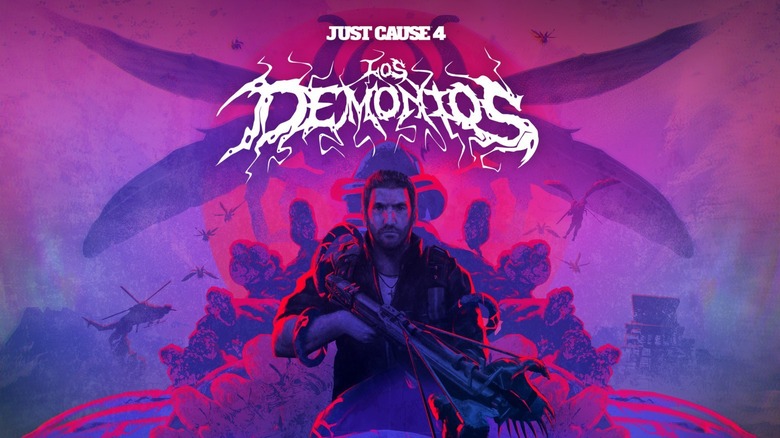 It's a big day for Just Cause 4 fans. Not only has Square Enix released a well-portioned Spring Update, the publisher has also announced Just Cause 4's second round of DLC.
Titled Los Demonios, the latest DLC tasks Rico with defeating an ancient, demonic force using the demon crossbow. "No one knows where it came from. No one knows why it's here," teases the announcement trailer amidst glimpses of Los Demonios' purple and blue saturated landscape.
Los Demonios releases on June 26 for Gold Edition and Expansion Pass owners with access for other editions set to follow on July 3. The Spring Update, which went live today, includes several improvements and additions to the base game.  
Global lighting has undergone significant adjustments, delivering better visibility and more vibrant environments. Light bounces off of objects in a more realistic fashion, creating rich, dynamic scenes. Thanks to better night visibility, Black Hand units are also much easier to spot.
The developers have added new destructible Black Hand Statues, challenging players to come up with creative methods for tearing them down. They've also improved the Black Hand Combat Vehicle AI. "The private military are far more aggressive," promises the announcement. "Jets can engage with you in dogfights, helicopters are more evasive, drones are less crash prone and vehicles will attempt to ram you off the road."
For those craving more mayhem, you can find trucks and Sky Cranes transporting mobile chaos objects scattered throughout the game. Metal Train bridges now explode and break into fragments, sending trains hurtling off the tracks. The update also features increased ammunition for weapons and various bug fixes. 
According to Square Enix, Just Cause 4 "is now the most explosive game in the series to-date." Head over to the official website to check out the full list of changes in the latest Patch Notes.