New Fortnite Patch Adds Downtown Drop LTM, Hot Spots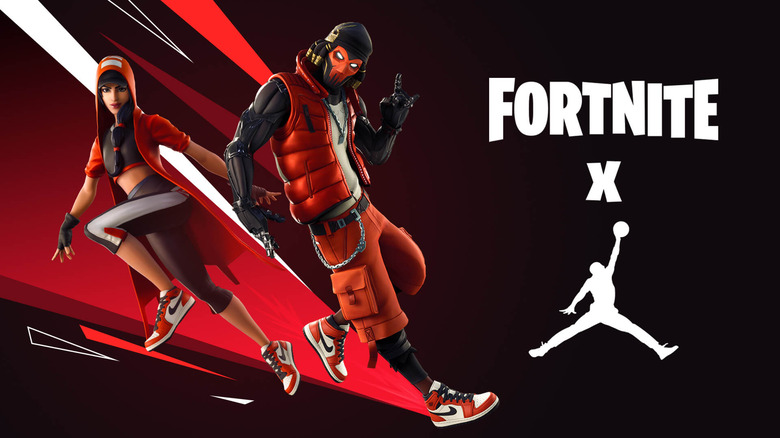 Fortnite's v9.10 patch has arrived, bringing with it a curious new limited time mode and some interesting battle royale changes. And if you thought that Michael Jordan Jumpman logo had anything to do with basketball, well, you're in for a real shock.
Advertisement
The Fortnite x Jordan promotion adds a new limited time mode called Downtown Drop to the game, and it has very little to do with the sport that made Jordan a star. Instead, it has more to do with his Nike-branded sneakers, adding them as part of new skins and inviting players to use said sneakers to perform jumps and parkour tricks. Downtown Drop only exists in Fortnite's Creative Mode, so if you were hoping for some kind of battle-royale-slash-basketball mash-up, that's not happening.
What is coming to Fortnite: Battle Royale, however, is a new feature called Hot Spots. Areas on the map are randomly designated as Hot Spots, which give them an increased chance at having a horde of Supply Drop drones nearby. Most of the time, there will only be one Hot Spot on the map. There is, however, a 25% chance that two Hot Spots could show up, as well as a 5% chance for three Hot Spots. Are these game changing, aside from offering more shots at higher-tier weapons? Not really. There will likely be more players making their way to the Hot Spots, but lately, it seems there is always an area on the Fortnite map that wants to draw players into early combat. So the game isn't radically changing as a result. It's just dropping more weapons into a more condensed space.
Advertisement
Apart from the two additions mentioned above, this latest Fortnite patch is fairly subdued. Sniper Shootout Duos, Unvaulted Squads and Close Encounters Squads are now in the rotation as limited time modes. Weapons, as they so often are, have seen their drop rates either buffed or nerfed for the purposes of balance. And a slew of bug fixes are on the way. Otherwise, there's nothing wild and crazy here. Just a feeling that the Downtown Drop LTM isn't nearly as cool as we thought it was going to be.
There is one more item of note that pertains to those playing on iOS devices. Epic mentioned that recent updates to Fortnite on iOS have been seeing delays, and put the blame squarely on Apple and its App Store policies. So if you see news about a Fortnite patch going out on all other platforms, there's a chance you might not receive the update for another 24 hours.
Fortnite's v9.10 patch should be available for download now.