Ancestors: The Humankind Odyssey Hits The Epic Games Store On August 27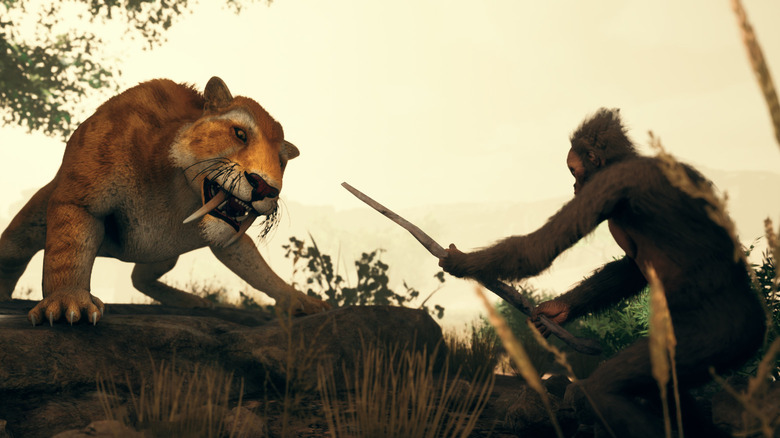 Ancestors: The Humankind Odyssey, the much-anticipated open world survival game from Panache Digital Games, launches on the Epic Games Store on August 27.
An exploration of human evolution that transports players to Neogene Africa, the game spans 8 million years, beginning with the dawn of humankind 10 million years ago."Explore a beautiful yet ruthless world from swinging through tree branches in the jungle to stalking prey across the golden savannah grasslands," says the official description. "Decide what attributes to learn and hone in order to pass down knowledge to future generations, from crafting tools to enhancing evasive tactics against predators. Just like real life, make sure to eat, drink, and sleep to stay alive and have the energy to face any danger that may come your way."
Advertisement
Today's trailer, titled Expand, highlights the importance of your clan. Players have the option to play as a baby, adult, or elder within that group. In your chosen role, you can expand and strengthen your clan through several methods. First, you can find and recruit outsiders by offering them aid such as food, drink, or antidotes. You can also mate with other clan members, producing offspring to continue the species.
The trailer offers a glimpse of Ancestors' fear system. Clan members experience fear when they venture too far from the clan or enter new territories and other high-stress situations. This fear is visually represented by snarling maws filled with sharp fangs that appear across the screen. By pushing through their fear, the player can claim more territory, a necessary aspect of the game as the clan will run out of resources if they remain in an area for too long.
Advertisement
Ancestors: The Humankind Odyssey is the latest game to join the ranks of timed Epic exclusives. The game will hit additional PC retailers, including Steam, a year after launch. Panache Digital has announced a console release for PlayStation 4 and Xbox One this December.