Cadence Of Hyrule Could Hit Switch This Week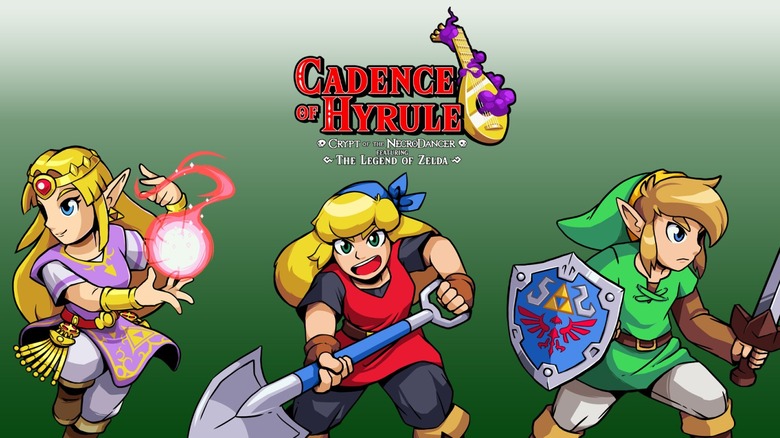 Cadence of Hyrule: Crypt of the NecroDancer Featuring The Legend of Zelda has a very long name. It may also have a release date now, too, if the one uncovered by a Twitter user is legit.
According to Nintendo Life, someone named NWPlayer123 uncovered what appears to be a release date for Cadence of Hyrule hiding in the source code of the game's page on Nintendo's website. The date? May 30, 2019. That's this coming Thursday, which means we could be just two days away from experiencing a brand new Legend of Zelda crossover on the Nintendo Switch.
Advertisement
Needless to say, we have goosebumps.
While we can't say for certain that the date is accurate, it lines up with the Spring 2019 window Nintendo gave Cadence of Hyrule in its February Direct. And Nintendo Life reports that the May 30 date also has some corroborating evidence in an email Nintendo Europe sent out this month, which teased the game would get a May 2019 release.
Odds are, you'll see Cadence of Hyrule sometime this week before the month is through. Any later, and the game potentially gets lost in the E3 shuffle, or has some of its thunder stolen by Super Mario Maker 2 in the latter part of June. With that in mind, the release date makes sense.
It might not be a bad idea to get your credit card ready. Just sayin'.
Advertisement
It's not often that Nintendo blesses third-party crossover titles that use the company's major properties, so Cadence of Hyrule is a pretty big deal. When you consider that Nintendo is so on board that it's actually publishing the title, which is made by the same fine folks who developed Crypt of the NecroDancer, it's hard not to get excited about what awaits.
There's no word yet on pricing for Cadence of Hyrule: Crype of the NecroDancer Featuring The Legend of Zelda. But as soon as we nail down the cost — which will probably reveal itself prior to the game's release — we'll be sure to let you know.