Days Of Play Offers PlayStation Deals, Starts On June 7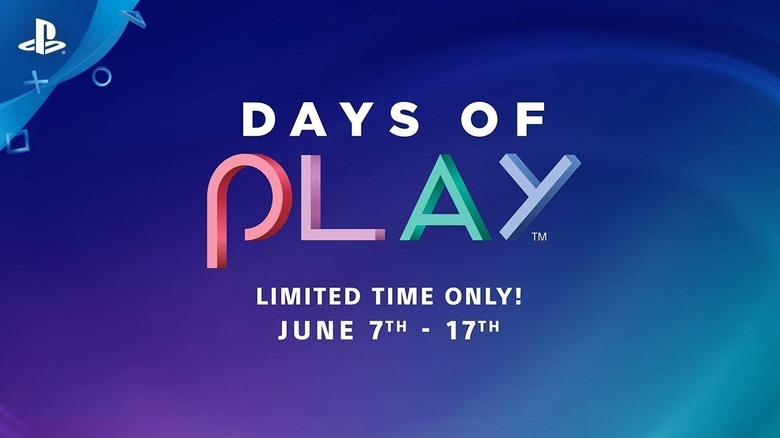 Looking to join the PlayStation family, or perhaps add more PlayStation games to your current backlog? Sony has a little something for that, and it's called Days of Play.
Days of Play is a sale on all things PlayStation that runs from June 7 through June 17, and if those dates jump out at you, it's likely because Sony's Days of Play event runs right through E3. Sony won't have a presence at the gaming expo this year, but it appears the company still intends to keep the PlayStation brand fresh in everyone's minds. And it just might work; some of the deals Sony is teasing are very good.
During Days of Play, a Jet Black PlayStation 4 Pro will sell for $350. PlayStation VR bundles will start at $250. DualShock 4 controllers will drop in price to $40. Games like Days Gone and God of War will receive discounts (though they've not been revealed yet). And Sony's PlayStation Hits titles, which regularly sell for $20, will also come down in price, with some selling for as little as $10.
It's worth noting that the above discounts are for physical products. But Sony also plans to hold a digital sale during that same time period on the PlayStation Store, and will also feature deals on PlayStation Plus and PlayStation Now subscriptions. So there will be a little something for everyone during Days of Play, whether you're a die-hard disc lover or a you're entirely devoted to digital.
In terms of what you should keep an eye out for, we'd look very closely at those PlayStation Hits discounts. Major Sony-published exclusives like Bloodborne, The Last of Us: Remastered, Uncharted: The Nathan Drake Collection, Uncharted 4, and Until Dawn are a part of the PlayStation Hits program, as are games like Persona 5, Yakuza Kiwami, Metal Gear Solid 5, and Doom. If you can manage to nab any one of those titles for $10, you'll be making out like a bandit.
Just don't buy Persona 5 and expect you'll have time to play anything else for a while.
Sony's Days of Play event is just nine days away at this point, so if you're currently shopping around for new PlayStation games, you might want to hold off for a bit. The sale starts next Friday, June 7, and wraps up on Monday, June 17.