Journey Comes To PC Via The Epic Games Store On June 6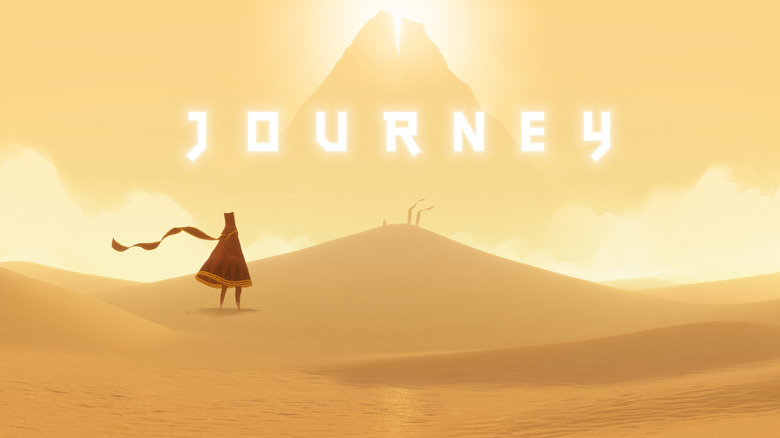 At long last, PlayStation 3 and PlayStation 4 aren't the only platforms you can play Journey on. According to VG247, thatgamecompany's 2012 classic is coming to PC by way of the Epic Games Store, and it's doing so on Thursday, June 6.
You might recall that Journey was originally announced as a future PC title following the Epic Game Store's launch in December of last year. Until now, however, we weren't exactly sure when we'd be seeing the title. It stood to reason that Epic might save a Journey launch date announcement for the PC Gaming Show, which takes place during the week of E3 (after all, the Epic Games Store is sponsoring the show). But with a June 6 release, Journey is actually getting out ahead of whatever news Epic might drop at E3. And that is highly interesting.
As for Journey itself, it joins games like Flower, Heavy Rain, Beyond: Two Souls, and Detroit: Become Human as former PlayStation exclusives that have made or will make the leap to PC. And frankly, that's great. Journey won't scratch the itches of those who prefer more action-oriented titles, as its largely what many would consider a walking simulator. But it's an experience worth having, and it's nice to know that those who play on PC will have a chance to check it out.
Oh, and there's one more important piece of news regarding Journey on PC; thanks to the current sale happening right now in the Epic Games Store, Journey can be pre-purchased for just $4.99, as the Epic Games Store is taking $10 off of any game priced at $14.99 or above. It's not often that unreleased games see their prices slashed by 66%, but Epic itself is covering the $10 discount on Journey and all other titles. So if you plan to play Journey at any point in the future, $4.99 may be the best price you'll see for quite a while.
We'll keep you up to speed should we learn any more about Journey's PC port prior to the game's launch on June 6.