Death Stranding Due Out On PlayStation 4 This November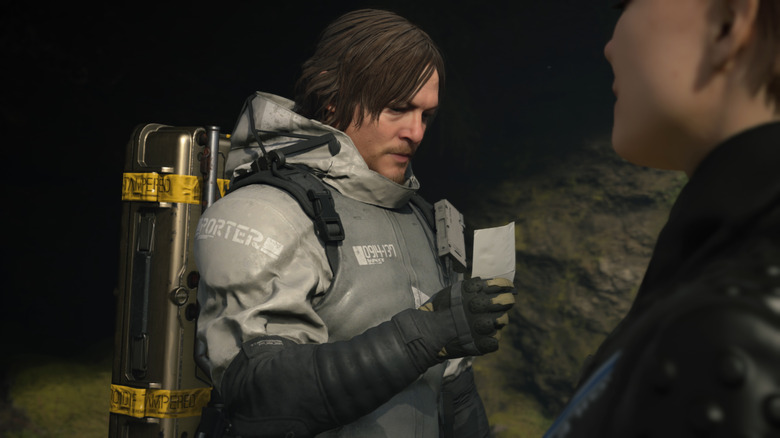 Who thought we'd see the day? Nearly three-and-a-half years after Hideo Kojima sat down with Sony's Andrew House to announce a partnership and a new project, Death Stranding has an official release date. What's even more bonkers is that the game comes out this year.
Buckle up: Death Stranding hits PlayStation 4 on Nov. 8, 2019. And you can watch a fairly lengthy trailer for it (almost nine minutes) here.
To be completely honest, we're still trying to wrap our minds around the story that Death Stranding is trying to tell. But that story — whatever it is — has a lot of Hollywood firepower behind it. The Walking Dead's Norman Reedus makes good on his attempt to star in a Hideo Kijima game. Mads Mikkelsen also features prominently, as do Léa Seydoux and Lindsay Wagner. Voice actor extraordinaire Troy Baker looks like he'll be getting to use his own face in his role, which is rare. And Guillermo del Toro, who nearly collaborated with Kojima on Silent Hills, plays a part in Death Stranding's tale.
As for the gameplay, Death Stranding appears to mash a lot of elements together. There's a bit of inventory management involved with regard to traversal tools like ladders and ropes, and what looks to be a bit of platforming/climbing using said tools. There's stealth. There's full-on melee combat, complete with the dramatic slow-down final blows used in games like the Arkham series. And there's that weird baby tool, which apparently helps you see dead people? And the dead use black goo to either cross over into the living dimension or pull the living into theirs, or both? Are we interpreting that correctly?
Whatever the case, it's downright astonishing that a game that's trying to do this much is coming out as quickly as Death Stranding is. By the time November rolls around, it'll have been a little less than four years since the partnership between Kojima Productions and Sony became official. In that amount of time, the studio shopped around for a game engine, teased us with numerous trailers, and gave us every indication that we wouldn't see Death Stranding until 2021, 2022, or beyond.
This coming fall just got a lot more interesting. Are there any other 2019 titles you'd like to surprise us with, Sony?
Death Stranding comes to PlayStation 4 on Nov. 8.