Dragon Divinity Naga Graces Fire Emblem Heroes Tomorrow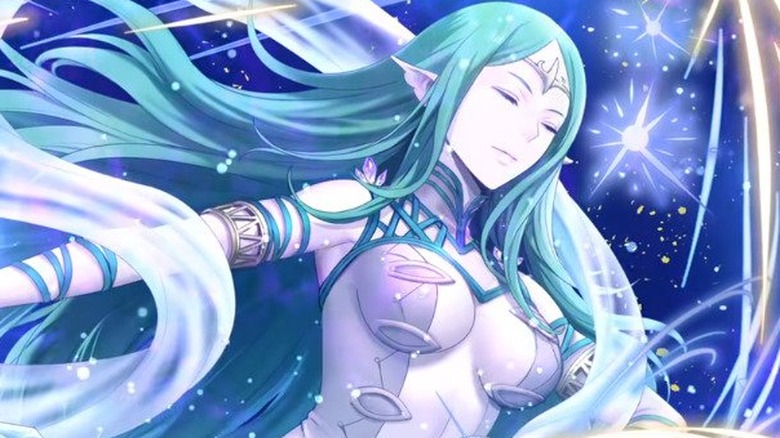 A new Mythic Hero is coming to mobile fighter Fire Emblem Heroes. Naga, also known as the Dragon Divinity, is a special figure in the Fire Emblem universe. The leader of the Divine Dragons, she appears in several games throughout the Jugdral and Archanea Series. Treated as a deity by most humans, she has a history of intervening in mankind's conflicts. She also created several holy objects, including the Falchion, Fire Emblem, and Book of the Naga.
Advertisement
Fire Emblem Heroes released to a mixed reception in February 2017, receiving praise for its straightforward combat and character lineup. The game's arbitrary Stamina mechanics, which limit how quickly the player can complete missions and progress through the narrative, hurt its initial appeal. Later updates increased the Stamina cap and reduced Stamina costs, easing some criticism.
The free-to-play tactical RPG won several awards, including Mobile Game of the Year at the 2018 D.I.C.E. Awards with downloads exceeding 14.1 million by September 2018. As of February of this year, it had grossed $500 million worldwide via microtransactions, with 56% of this revenue generated by sales in Japan. Nintendo has continued to release new characters and features for Heroes, including two major story expansions.
Advertisement
The announcement trailer provides a look at Naga's learnable skills, comprising a variety of situational buffs and debuffs. She is particularly effective against dragons, a bonus she can temporarily extend to adjacent allies. Early reactions from fans indicate that her skillset is surprisingly balanced for a god, though, this assessment could change with her stats reveal.
Dragon Divinity Naga will be available from May 30 thru June 5. Lyn, Hector, Tiki, Eirika, Hríd, Fjorm, Gunnthrá, Laevatein, Duma, Velouria, and Lugh will also appear as part of the Mythic Hero Battle event. You can download Fire Emblem Heroes on iOS and Android devices now.