Survival Multiplayer Deathgarden Relaunches With Bloodharvest Update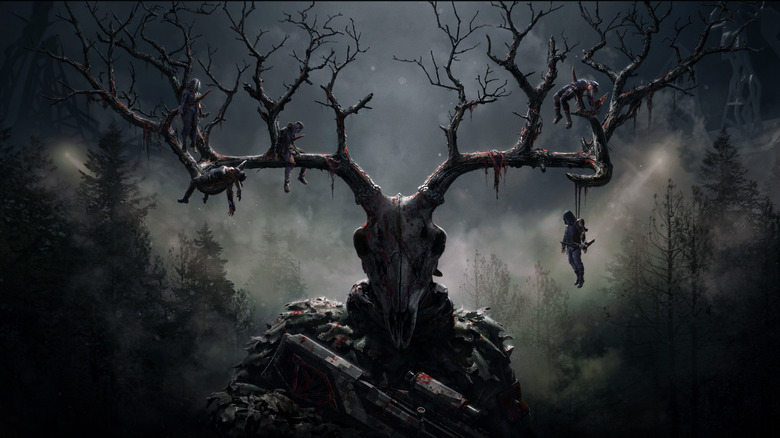 Behaviour Interactive has relaunched their 1v5 dystopian kill fest Deathgarden.
First released in Early Access in August 2018, the game struggled to get its footing within the saturated multiplayer market. Its $30 price tag, performance issues, and repetitive gameplay drove players away; within a month of its release, Deathgarden had turned into a ghost town.
Seizing their second chance, the development team has added a host of content and features for the reboot, titled Deathgarden: Bloodharvest. New objectives should cut down on the repetitive nature of the game, while the overhauled progression system provides more customization options.
Working from the original British Columbia and Arizona biomes, Behaviour Interactive has created four thematic arenas: Salt Creek, Tombstone, Blowout, and First Strike. Complete with unique weather elements and lore-related assets, these maps compliment Deathgarden's darker art direction, enhancing the sense of immersion and fantasy. 
The relaunch comes with a new price point. You can now purchase the Standard Edition for $14.99 and the Deluxe Edition for $34.99. Behavior is also offering a Dead by Daylight and Deathgarden: Bloodharvest Steam bundle for $29.99, a $15 savings. If you already have Dead by Daylight in your library, you can snag Bloodharvest for $9.99.
To celebrate the reboot, the developers are providing a free weekend on Steam, which started today at 1:00 p.m. EST and runs through June 2 and 4:00 p.m. EST. Further, you can buy all editions of Bloodharvest at a discount until June 6. Anyone who purchases the game during this sale will score a free copy they can gift to a friend.
Check out today's gameplay trailer for a look at Deathgarden's updated visuals, new maps, and characters. The video also shows off the new Terminator DLC, a cosmetic set for The Poacher inspired by the iconic film franchise.