Bryce Dallas Howard Features In New Jurassic World Evolution DLC Coming This Month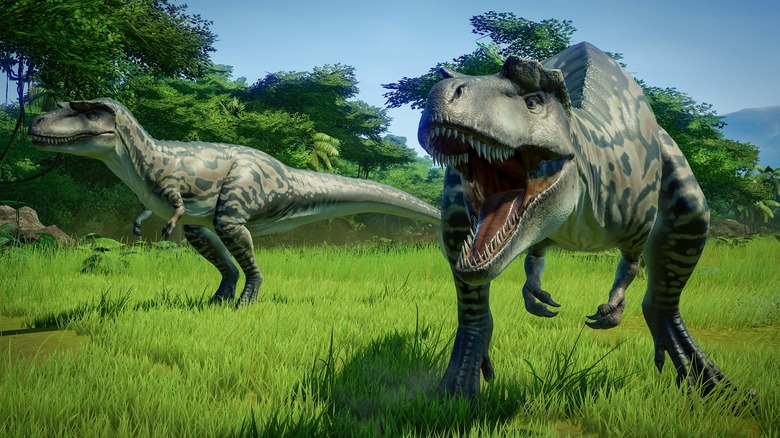 Jurassic World Evolution, the business simulator based on the popular Jurassic Park series, got off to a rough start back in June 2018. "At its best, you're basking in the glory of your genetically modified titans bringing in tons of cash and visitors, living up the John Hammond dream," said Game Informer's Daniel Tack. "At its worst, you're engaging with a deluge of menus, timers, and minutiae that feel like fulfilling annoying chores, all while babysitting cooldowns and constantly clicking away."
Advertisement
Despite these issues, Jurassic World Evolution has accumulated a loyal following. As of January 15, 2019, it had sold over two million copies, making it Frontier's most successful launch to-date. Bolstered by this success, the developer continues to support the game with free updates and downloadable content. As revealed in today's trailer, the latest DLC, titled Claire's Sanctuary, will launch later this month. 
Threatened by a volcanic eruption, the narrative centers on the relocation and rehabilitation of the dinosaurs on Isla Nublar to Sanctuary, an island oasis. Bryce Dallas Howard reprises her role from the films, guiding the player as operations manager Claire Dearing. "We have the means. We have the resolve," says Dearing in the trailer. "Let's save some dinosaurs."
Advertisement
Beyond the new campaign, Claire's Sanctuary introduces three new dinosaurs: the Albertosaurus, Euoplocephalus and Ouranosaurus. New Paleobotany mechanics will also allow players to research and grow new plants in the Greenhouse structure. Serving dinosaurs their favorite meals will increase their lifespan and prestige, while putting them at ease in their new environment.
Patch 1.8, the latest free update, will go live alongside the Claire's Sanctuary DLC. The update incorporates several fan requested features, including terrain and scenery items, refined spinosaurid care via wetlands and fish feeders, and the addition of automatic gates. Everyone who owns the base game will receive the free update whether they buy the DLC.
Jurassic World Evolution players can purchase Claire's Sanctuary for $14.99 via Steam, PlayStation 4, or Xbox One starting June 18.