Destiny 2 Could Soon Save Progress Across Platforms; Stadia Version Rumored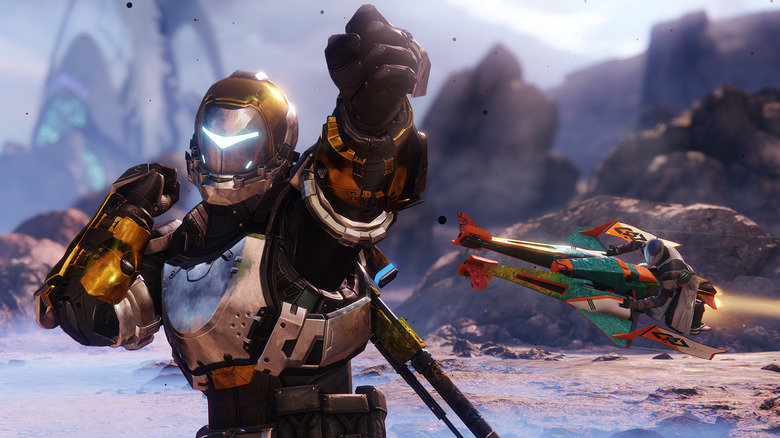 Destiny 2's latest datamine is the gift that keeps on giving. After files from the game's most recent update shed light on an upcoming expansion, it appears there's more to be found, including features that Destiny 2 plans to support in the near future.
Advertisement
A report from VG247 indicates that references to a cross-save feature were found inside Destiny 2's 2.5.0.1. update, which shipped yesterday. For those unfamiliar with that phrase, cross-save enables you to play a game on one platform and transfer that progress to another. Until recently, it was most often found on games within the same console family; say, a PlayStation 3 game supporting cross-save with the PlayStation 4 version. But there's been a strong push as of late to get both cross-platform multiplayer and cross-save built into more games across all platforms.
Should Bungie manage to pull this off in Destiny 2, the game would essentially work as Fortnite does, where you can use your one account on any supported platform. And aside from being able to log onto your Xbox One and use your already-leveled PS4 character to play with a friend, you know what that means: you can finally go experience the wonder that is Destiny 2 at 60-frames-per-second on a PC, if only for a brief period before you return to your primary console of choice.
Advertisement
Or maybe even your browser. A story from Kotaku claims that Destiny 2 could be headed for Stadia, Google's new game streaming platform, with a reveal coming as soon as this Thursday. Google's Stadia Connect stream is just an hour before Bungie's stream on that same day, and if Bungie's shooter does indeed get a version that supports cloud play from web browsers, smartphones, and tablets, Bungie's desire to get cross-save working would suddenly make a whole lot of sense. 
The possibility of Destiny 2 enabling cross-save does bring up an interesting question; could cross-platform multiplayer be on the horizon at some point? Or perhaps come at the same time as cross-save? That would truly break down the barriers and allow the entire Destiny 2 community to come together for the first time, uniting friends who went their separate ways at the start of this console generation and bringing back those who left for PC back in Fall 2017. We haven't seen anything yet to indicate that cross-play is coming to Destiny 2, but then again, we didn't really know cross-save was on the table until today. It's at least something that's worth keeping an eye on.
Bungie has a stream planned for Thursday at 10 a.m. PT, and it's there the studio will presumably tell us all about the Destiny 2: Shadowkeep expansion that leaked yesterday, as well as how the game might work on Stadia. If we're to hear more about cross-save and any other major features coming in the next major Destiny 2 update, it'll likely happen then.
Advertisement