Hyperkin Shows Off New Clone Console For N64 Games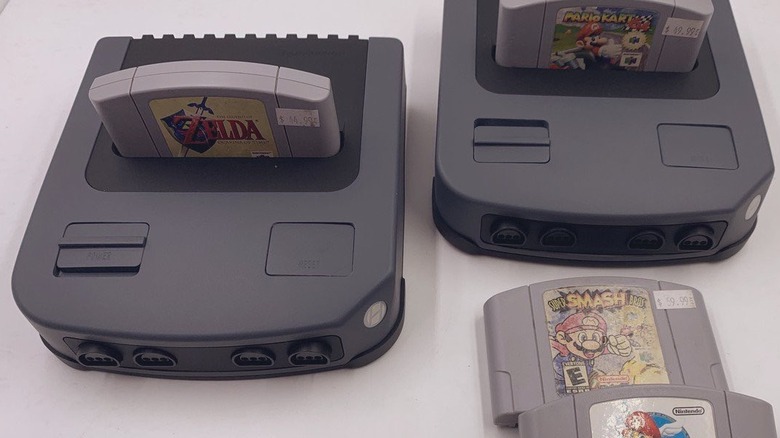 Sure, it's not all that difficult to track down an actual Nintendo 64 these days. But then you have to worry about how you'll hook it up to your HDTV. Why fuss with video adapters and such when you can just buy Hyperkin's N64 clone instead?
According to GameSpot, Hyperkin recently showed off the Retron Ult Premium Retro Gaming Console for N64. And yes, that is its real name. The Retron Ult has just about everything a typical Nintendo 64 has. It supports real N64 cartridges. It works with original N64 controllers. You could be forgiven for thinking the Retron Ult doesn't bring a whole lot of new stuff to the table.
Take a closer look at it, however, and you'll see what truly sets Hyperkin's N64 clone apart.
The Retron Ult can output HDMI, which means it'll likely work with the TV you have this year instead of the one you had back in 1996. It'll play games in either 4:3 or 16:9, depending on what you prefer. Not only that, it's powered via USB-C, making it far easier to find a suitable power cord to plug into it. And is that a headphone jack in the front between the two pairs of controller ports? We've come to love playing with headphones, these days, as it keeps the house quiet for everyone else (and blocks out all the outside noise in the process). That will definitely be getting some use.
Unfortunately, we can't say when the Retron Ult Premium Retro Gaming Console for N64 is coming out. GameSpot reports that the clone console is still being worked on by Hyperkin, so it could still be many months before it finally goes on sale and gives us a way to play Pokemon Snap once more. Should Hyperkin have any more news to share at E3 regarding the product, or should we hear about a potential release date from some other source, we'll fill you in.
In the meantime, be sure to jot down the date and time for Nintendo's E3 Direct: it takes place on Tuesday, June 11 at 9 a.m. PT. Who knows? Maybe the company will shock us with some kind of N64-related Switch announcement.