Google Stadia To Launch This November For Founders, 2020 For Everyone Else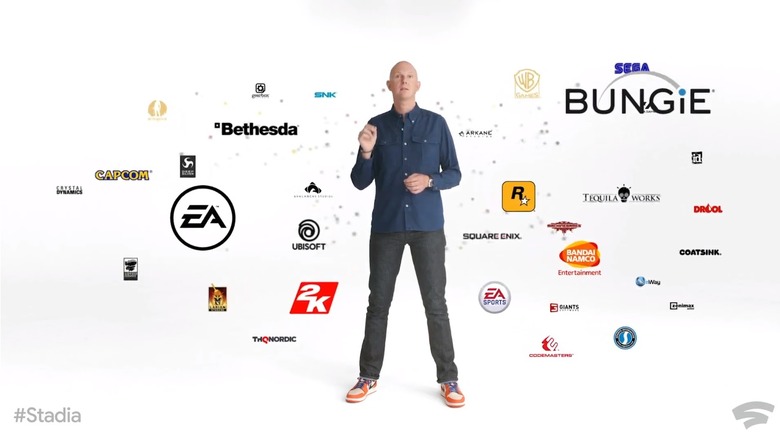 Google has wrapped up its first-ever Stadia Connect, and we now have more information on the company's streaming game service, including when it'll launch, how much it'll cost, and what games we can look forward to playing when it arrives.
Let's get the release date out of the way first: Google Stadia will launch this November for those who pre-order a special Founder's Edition pack. That Founder's Edition will cost $129 and includes a limited-edition Stadia gamepad, a Chromecast Ultra, a three-month subscription to Stadia Pro (with a three-month buddy pass for a friend), and a full copy Destiny 2 containing all add-ons and expansions. Plus you'll get to use Stadia before anyone else, and you'll also get to lock down your Stadia name before anyone else gets a crack at it. That's pretty cool.
Those who don't opt into the Founder's Edition, however, will have to wait a bit. Google plans to open sign-ups to everyone else sometime in 2020, so if you want early access, you'll need to fork over $129 for that Founder's Edition, which is available for pre-order now.
As far as pricing goes, Google appears to have landed on the side of charging for access and games, sort of. Some believed Google would offer a Netflix-style service, hosting a library of games for a monthly subscription fee. Others felt Google would go the way of a traditional storefront and sell games individually. As it turns out, Google is charging based on the tier of quality you want in your experience. A subscription service called Stadia Pro promises 4K gaming at 60 frames per second for $9.99 a month. Individual games will be available as one-time purchases, and it appears those will also require a Stadia Pro subscription for the time being. When Stadia opens up to the rest of the world in 2020, a tier called Stadia Basic will offer 1080p gaming at no additional cost. So if that's all you require, you could conceivably purchase a game through Stadia and play it without paying anything extra.
And then there's the supported hardware. Google will support Stadia on TVs via Chromecast, on desktops and laptops via Chrome, and on tablets via Chrome. In terms of smartphones, it appears the company's line of Google Pixel 3 devices will be the only ones capable of running the service to start, but Google did say it hopes to support more devices in the future. Google would probably love it if you used its special Stadia controller, but if you already have a PS4 or Xbox One controller lying around, that should work, too. And regarding internet speed: it might not be such a big factor. Google claims you'll get 4K, 60 FPS gaming with HDR and 5.1 surround sound if you have download speeds of just 35 Mbps. If you have as little as 10 Mbps, you'll still be able to play at 720p and 60 FPS.
And wait... did we mention Destiny 2 earlier? Yes, we did. Google has managed to rope some pretty high-profile names into supporting Stadia at launch, and Bungie is just one of them. During Google's Stadia Connect stream, we also learned that companies like Ubisoft and Activision are on board, as well as Square Enix, Bethesda, and a whole lot more. Baldur's Gate 3 made its debut with a trailer during Stadia Connect, and we also got looks at games like Gylt, Ghost Recon Breakpoint, and The Division 2. Needless to say, Stadia won't be without games to play when it arrives, and that'll make adopting the platform less daunting for those who love their big-name titles.
We're bound to learn more about what's coming to Google Stadia as we forge ahead toward its November Founder's launch, and Google plans to tell us more in future Connect streams. As soon as we have the info, we'll get it in front of you.