GTA Online's Vinewood Casino Could Soon Open Its Doors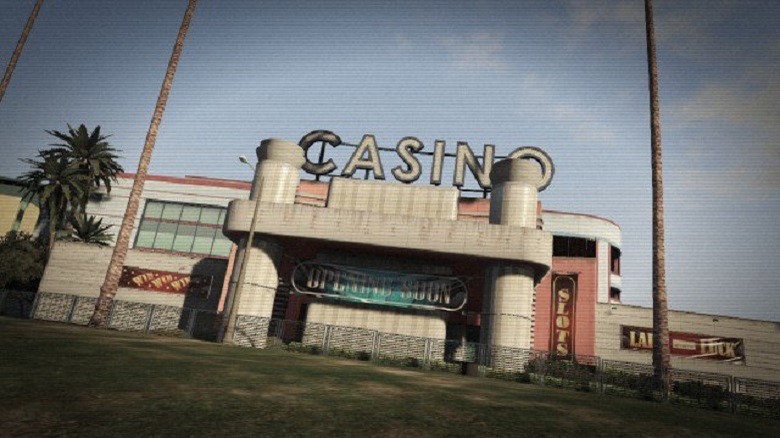 Twitter: @TezFunz2
Listen up, high-rollers of Los Santos: the Vinewood Casino could soon be open for business, and if we know GTA, your money will almost certainly be welcome there.
The folks over at IGN picked up on a tweet from @TezFunz2, a renowned dataminer who has a knack for discovering things in GTA Online before they go live. And it appears he caught a glimpse of something related to GTA Online's next update. According to @TezFunz2, Rockstar "updated the background script to set specific dates that will apply changes to the casino." And sure enough, a change to the casino already dropped in the game's most recent update.
The Vinewood Casino now has an "Opening Soon" sign, as evidenced by the photo above. And there is also a bit of construction equipment sitting around the premises. If the info datamined from GTA Online holds true, players could begin to see the area around the casino change over time, leading right up an update focused solely on the casino itself. And who knows what that could bring! Perhaps an opportunity to gamble a little bit of your currency away. Or perhaps a new target, ripe for the robbing.
Casinos do have a lot of money in them, you know. Whether you'll be losing it or taking it is, at this point, anyone's guess.
We have to say, though, that it's admirable the way that GTA Online has kept on trucking over these many years. What first launched as something rather ambitious in 2013 has managed to stay fresh — and keep players logging in — for nearly six years now, with all sorts of major updates and content drops along the way. There have been updates to add jobs. There have been updates with an eye toward those who enjoy racing in GTA Online. The game's Heists update made sure the criminal underground continued to thrive. Really, there's been a little something for everyone to enjoy.
So if you enjoy gambling, and you've been wishing something in GTA Online could scratch that itch, keep an eye out; that wish might come true very soon.