Control's E3 2019 Teaser Trailer Will Have You Seeing Red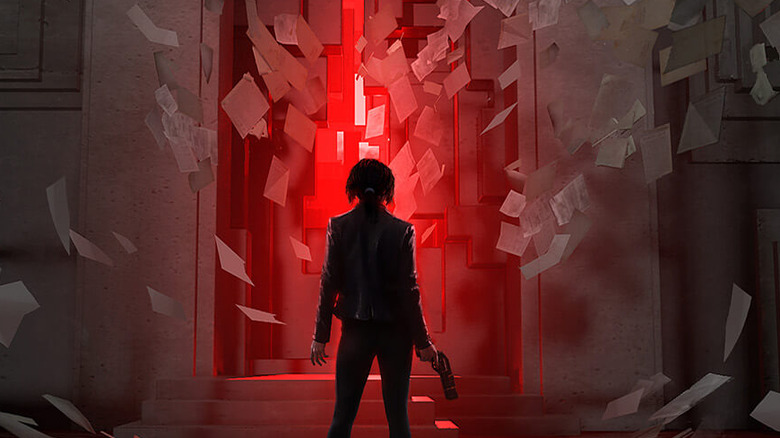 505 Games has released a new E3 2019 Teaser Trailer for Control, the upcoming supernatural adventure from Alan Wake developer Remedy Entertainment.
Control revolves around Jesse Faden, the new Director of the Federal Bureau of Control, a secret government agency dedicated to keeping a handle on all things supernatural. Her tenure gets off to a rough start when a paranormal being known as the Hiss seizes the Oldest House, the FBC's New York headquarters.
Remedy has revealed little about the Hiss but the E3 trailer clarifies that it is a force to be reckoned with. "We are about to be exposed to a different kind of resonance," asserts the trailer's narration. "Hostile, viral, invasive resonance." Red-saturated images of the facility compliment this ominous tone, including a shot of three soldiers suspended in mid-air. "The Hiss escaping the building would be the end," comments another character.
"Our main antagonist is an unknown otherworldly entity called the Hiss," said Remedy senior concept artist Oliver Ödmark. "It is a bodiless force beyond human comprehension which travels between dimensions through resonance. It consumes everything it comes across, corrupting matter in unpredictable ways, takes hold of humans and uses them like tools to overpower any resistance it might face."
The trailer concludes as Jesse walks in on Ahti, the Bureau's off-beat janitor portrayed by Finnish actor Martti Suosalo. "Don't worry," says Ahti. "It'll be, uh, quick and painless." Remedy has implied through a series of tweets there is more to the janitor than meets the eye: "Is Ahti just a tango-loving Finn with a thick accent or something far more mysterious?" asked creative director Sam Lake.
Control releases on PlayStation 4, Xbox One, and PC on August 27. An Epic timed-exclusive, Windows users will have to snag the title from the Epic Games Store or wait until it hits Steam in 2020.