EA Play 2019 Unveils Fallen Order Gameplay, Tenth Apex Legend, Sims 4 Expansion, And More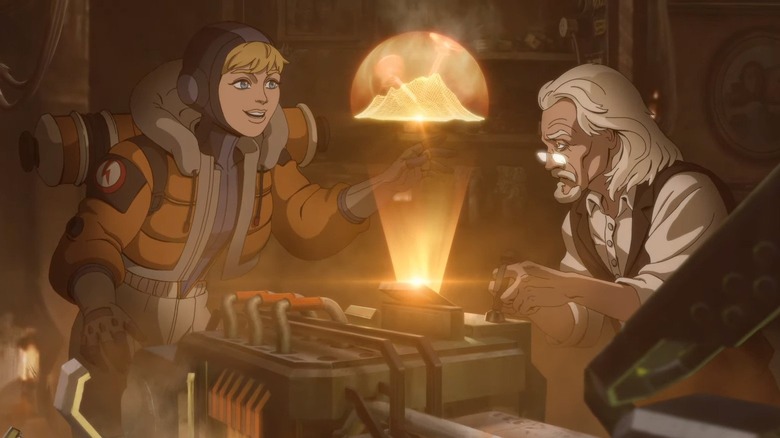 EA Play switched up its format this year, presenting six game-specific livestreams packed with updates and other exciting announcements.
Star Wars: Jedi – Fallen Order kicked off the festivities with a gameplay reveal. The session centered on Fallen Order protagonist Cal Kestis, transporting players to Kashyyyk, the Wookie homeworld. With the action unfolding at about three hours into the game's timeline, the reveal provided a glimpse of Cal's developing force abilities and the various enemies standing in his way. It also highlighted the interactions between Cal and his explorer droid, BD-1.
During the demo, you see the different approaches you can use to traverse the environment and eliminate enemies. Cal's force abilities — push, pull, force flip, and slow — play a key role in this. BD-1 also plays an integral part in the quest, hacking computers, scanning the environment, and providing bits of lore. The droid can also shoot out stimpaks following battles, healing Cal and letting him continue his mission. A useful feature, though stimpaks will reportedly be in limited supply.
Ramping up the excitement, Respawn made several announcements about Battle Charge, Season 2 of Apex Legends. Kicking off on July 2, Season 2 will bring a host of new content. Of note is the L-Star, a fan favorite weapon from Titanfall 2 that can open doors and will arrive in Care Packages. Battle Pass owners will have four new skins to choose from: the Prince of Darkness skin for Caustic, the Jade Tiger skin for Octane, the Spitfire skin for The Intimidator, and the Iron Rampage skin for the R-301.
Respawn dropped two bombshells for Apex Legends fans: a new six-tiered ranked mode and Wattson, the tenth Legend to enter the Apex Games. A brilliant engineer, Wattson helped create the ring with her father. Due to her first-hand knowledge, she knows the ins and outs of Kings Canyon. This, coupled with her electric-based abilities, will bring a greater creativity and strategy to the Games.
Battlefield 5 unveiled several new maps and features during their livestream. Al Sundan, a sprawling map based on the vista used in the single player War Story Under No Flag will arrive in June, sending players to the North African desert. Marita, an infantry-focused map, arrives in the July. Incorporating a sloping mountain ridge and the cramped streets of a rural town, Marita continues the Battle of Greece narrative. Operation: Underground shakes things up in October, offering urban streets, service tunnels, and train platforms for players to fight their way through.
Dice also provided a first look at Chapter 5. Releasing this fall, the next chapter of Battlefield 5 returns to the Pacific Theater with three new maps, including the Battlefield classic Iwo Jima. Chapter 5 will also feature an expanded arsenal of iconic weapons and gadgets and a new set of vehicles.
FIFA 20 dropped a new trailer this morning, revealing Volta Football, a new mode that brings football back to the streets. The mode will include several new locations, such as a Tokyo rooftop, London cage, and an underpass in Amsterdam. Today's panel also revealed incoming gameplay updates like football intelligence improvements, more decisive movements, and a new ball physics system. 
The EA Sports Madden NFL 20 panel included a gameplay reveal, and a breakdown of the new features fans have to look forward to: Faces of the Franchise, Scenario Engine, evolving playbooks, Ultimate Missions, and X-Factor Abilities. The game will also include custom signature animations, a scramble mechanic, a pump fake mechanic, and 220 RPOs (run pass options.) 
EA Play 2019 went out on a high-note, revealing the next Expansion Pack for Sims 4: Island Living. Brimming with new items, features, and jobs, Island Living seeks to immerse players in the island lifestyle. For the first time, your Sims can walk into open water and take part in water-based activities like snorkeling and swimming. You can also make friends with aquatic creatures, such as dolphins, and play as a mermaid.
As part of a partnership with It Gets Better, Sims will start rolling out new Pride-related clothing, items, and features on June 18. The Sims 4 Moschino Stuff Pack, which includes a part-time career as a freelance fashion photographer comes out this summer. Sims also teased the next game pack, Realm of Magic, planned for release in the fall.