PC Gaming Show At E3 2019: The Important Things You Missed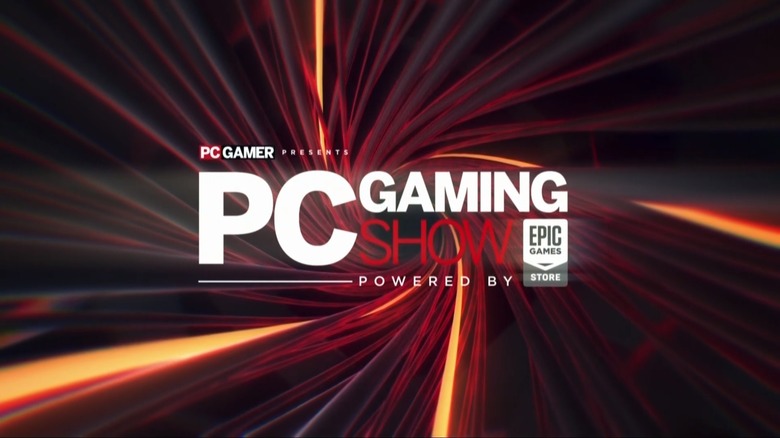 The 2019 edition of E3's PC Gaming Show has come to an end, and, yeah, that was a thing, wasn't it? There were definitely some big announcements. There was also some fluff. What we're going to do is tell you all of the important bits you should take away from today's show.
That means games like Shenmue 3 that showed up and didn't tell us anything substantive: they're getting a skip. Now, on with it.
Rebellion's next title, Evil Genius 2: World Domination, looks to again put you in the shoes of an evil boss man. We love when games turn typical conventions on their ear, and the idea of playing a villain? Enticing. You'll be able to set all kinds of traps to catch the good guys in, and that sounds like something worth playing. If only we knew when we could do it. But alas.
In Vampire: The Masquerade – Bloodlines 2, you get to play as a vampire; one desperately trying not to be outed as a vampire. You'll still have those vampire needs, though, which means sipping on the blood of the living in order to survive. In Bloodlines 2, you are able to see the "emotional resonance" of the humans you come into contact with, and different types of resonance have different attributes that you can consume to feel "more alive" than dead. And this one, gloriously, provided a release window: Q1 2020, with pre-orders available now.
Chivalry 2 is a collaboration between modders-turned-professionals Torn Banner and Tripwire, and it aims to let you do everything you could ever dream of doing in a medieval setting. Want to engage in sword combat? You can do it. Want to ride horses, siege cities and raid villages? You can do that, too. Want to slice the head clean off of some innocent without giving it a second thought? It's in the game. Chivalry 2 is set to release in early 2020, and it's coming first to (the PC Gaming Show sponsor) Epic Games Store.
Midnight Ghost Hunt looks really, really cool. On one side, you have a crew of ghost hunters, riding around in a van like some sort of cross between the Scooby-Doo gang and the Ghostbusters. And on the other side, you have ghosts: beings capable of hiding in and taking control of otherwise inanimate objects like chairs and lamps. This is a multiplayer affair, with the ghosts trying to hide until the clock strikes midnight and the ghost hunters trying to destroy them-slash-suck them up and eliminate them one by one. But if midnight rolls around, the ghosts suddenly gain the upper hand, and the ghost hunters become the hunted. Midnight Ghost Hunt enters alpha this summer.
Unexplored 2: The Wayfarer's Legacy sticks out, and its appeal has mainly to do with the game's art style. It looks drawn and illustrated in a way, which fits the game's top-down action-adventure vibe. And the gameplay? It looks to borrow a lot from The Legend of Zelda, and there is nothing to dislike about that whatsoever. This one, unfortunately, didn't have a release date.
Developer Funcom showed up to offer a look at a few things coming down the pipeline. A new expansion called Seed of Evil is coming to Mutant Year Zero on July 30 across all platforms, adding new story, a new mutant, and more. Conan Unconquered is making its way to PC. Moons of Madness is a new first-person horror title coming Halloween 2019. And Conan Chop Chop, a chibi-looking roguelike that people apparently thought was a joke is in fact real; that game arrives on Sept. 3, 2019.
Lost Oasis also launches on Sept. 3, and by all accounts, it's an MMO that'll feature a lot of flying cannonballs and bolts, with all sorts of destructible contraptions thrown in for good measure. In this instance, we think the trailer didn't do a great job selling what the game entailed or what players would appreciate about it. So hopefully we'll get a better sense when the game comes out and critics get their hands on it.
Age of Wonders: Planetfall caught our attention because of one simple thing: dinosaurs with lasers. Choose your faction, land on a strange planet, build a civilization around your ship, and explore the vast unknowns. Also, dinosaurs with lasers. Age of Wonder: Planetfall releases on Aug. 6, 2019.
Zombie Army 4: Dead War comes from the makers of Sniper Elite 4, and if anything should make your ears perk up, it's that. Imagine the action (and the slow-mo sniper shots) from Sniper Elite, but with Nazi zombies, and you'll have everything you need to know about why Zombie Army 4: Dead War might be worth a look. There's no release date for this one just yet.
Remnant: From the Ashes is a third-person shooter that promises co-op support from beginning to end. And for those of you who are fans of Souls-style gameplay, you might like the mix of shooting and dodging found here. Plus the developers say you'll die a lot. That is why you all play those games, right? Remnant: From the Ashes launches on Aug. 20, 2019.
Griftlands is a strategy card game that has an art style reminiscent of The Banner Saga, which is a good start. It also appears there are multiple ways to approach any given situation in the game, and you know what that means: replayability. Griftlands goes into alpha on July 11, 2019.
Planet Zoo offers you the chance to, well, run your own zoo. The big draw here appears to be in the game's realism. Animals do animal things, and it'll be your job to make sure said animals are healthy and cared for. A beta for Planet Zoo will kick off this summer, with the game officially releasing on Nov. 5, 2019.
Songs of Conquest claims to be "classic adventure strategy," and from what we saw of the game, it holds true to that promise. In Songs of Conquest, you start off by recruiting yourself an army. And from there, you take off on an adventure, roaming from city to city, upgrading your forces and dispatching the various enemies you encounter along the way. If you're into games with turn-based battle systems that are more chess than chop chop (sorry Conan), Songs of Conquest might be the game for you when it arrives. Eventually.
Warhammer: Vermintide 2 showed off a very brief trailer to announce a new Versus PvP mode that'll be coming to the game. You can sign up for the beta now, but there's no word on when the mode will release to a wider audience.
Ancestors: The Humankind Odyssey looks like an incredibly ambitious title, dropping players into what is essentially the era before humans existed. From there, you'll learn to survive as an ape before evolving into the earliest humans, with the end goal being to move from being the prey of the world to becoming what humans are today: the predators. Ancestors: The Humankind Odyssey arrives on Aug. 27, 2019.
Have you ever heard of Auto Chess? In no time flat, there will probably be a zillion of these kinds of games, as they seem poised to become the next battle royale (in terms of everyone wanting to build one). The original, however — the DOTA spin-off — is getting its very own independent PC release, as well as a release on mobile. And that'll happen later in 2019.
CrisTales brands itself as "a love letter to classic RPGs," with the game taking place in the past, the present, and the future. There is a demo of this game available now on Steam if you want to see how closely it adheres to the RPG norms of yore, but if you want the full game, you'll have to wait until sometime in 2020.
Valfaris is a 2D platformer-slash-shooter that is just... well, it's very metal. There is loud heavy metal music. There is shooting. There are bloody guts flying all over the place. And there was an opportunity for the developers to help everyone know what to search for, except they didn't put the name of the game in the trailer. There's no release date for this one just yet, so that's at least something they can work on for the future.
Borderlands 3 got some stage time at the PC Gaming Show, and Paul Sage was on hand to actually say words this time. He revealed that BL3 will have an expansive endgame in the form of Guardian Rank, with all sorts of skills and skins to unlock once the campaign comes to a close. And he also offered a scoop on the game's initial level cap (it's 50), while confirming that weapon transfers between characters would indeed be a thing. Borderlands 3 launches on Sept. 13, 2019.
Oh, are we ever in for this game called Maneater. It was described as "GTA if you were a shark," and from the gameplay shown, it looks every bit as crazy as a good romp through any Grand Theft Auto city. Add that to the fact that there's a progression system dubbed "SharkPG," and we're sold. There's no solid release date for Maneater, but the hope is that it'll arrive "before the next PC Gaming Show."
Terraria, which has been bonkers successful, is getting a new expansion called Journey's End. No word on a release date.
Telling Lies is an FMV story-driven game from Annapurna Interactive, which is known for these types of experiences. And it looks to play a bit like Her Story, in that you'll be searching through video clips to find connections between other clips, digging in to eventually unravel the story behind the whole shebang. This one is expected to arrive "very soon," but no firm release date was given.
Warframe's long-awaited next expansion is on the horizon. It's called Empyrean, and it invites players to explore space and take the fight right into the stars. Unfortunately, all we got was a trailer that didn't explain a whole lot, with a tease for a full reveal stream on July 6. So if you want to know when you'll be able to get your hands on Empyrean, you'll either have to watch that or check back here.
And finally, Baldur's Gate 3. This game is only a few days old in our minds, having just been unveiled during Google's Stadia stream last week. And no, the game isn't coming out just yet. But there'll be a prequel of sorts to tide everyone over in the meantime. It's coming in the form of a tabletop game; another collaboration between Larian Studios and Wizards of the Coast that is set to arrive in September.
All in all? This year's PC Gaming Show might've been a bit too long and was a little too thin on information in a lot of areas. We imagine we might be seeing some of these same games at next year's show. Hopefully by then, the fat's been trimmed a little bit.
We'll have more from E3, so stay tuned.