Square Enix At E3 2019: Marvel's Avengers, Final Fantasy 7 Remake, And More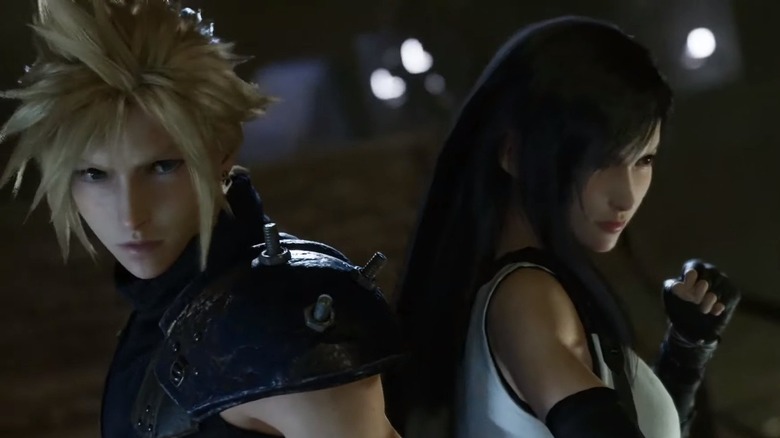 Square Enix had a busy night at E3 2019, presenting a showcase brimming with announcements and trailers for new and upcoming titles. 
The Final Fantasy 7 Remake kicked off the event, showing off its real-time combat and tactical mode. The publisher also provided the first look at Tifa and Sephiroth during an extended trailer, much to the delight of fans. According to the panel, the game will have enough content to fill 2 Blu-ray discs, with the first set entirely in Midgar. 
More Final Fantasy news followed, including a Winter 2019 release window for the upcoming Final Fantasy: Crystal Chronicles remaster. War of the Visions, the Final Fantasy Brave Exvius spinoff announced last year, also debuted new footage. Still in active development, War of the Visions has yet to receive a release date.
With Final Fantasy 14's Shadowbringer expansion right around the corner, Square Enix unveiled a new launch trailer. The trailer ends with antagonist Solus zos Galvus dropping a major bombshell regarding the true nature of the crystal entities Hydaelyn and Zodiark. Beyond a new storyline, players have two new jobs and two new playable races to look forward to. 
Rounding off the Final Fantasy content, Square Enix surprised fans with the announcement trailer for a remastered version of Final Fantasy 8. One of the series' most divisive titles, FF8 Remastered will launch on PlayStation 4, Xbox One, Nintendo Switch, and PC later this year. The publisher also teased several other remastered games and ports, including: The Last Remnant Remastered, the Steam launch of Octopath Traveler, and Western releases for JRPGs Saga Scarlet Grace and Romancing Saga 3.
Square Enix shared new footage from the Definitive Edition of Dragon Quest 11: Echoes of an Elusive Age. Coming to Switch this fall, the game will feature full orchestration and a new chapter in the Luminary storyline. The new trailer showcases the title's 16-bit graphics option. The publisher also shared a new trailer for Dragon Quest Builders 2, a Minecraft-flavored game set in the world of Dragon Quest. 
Developer Eagle Nest Interactive detailed Circuit Superstars, their new top-down racer zooming onto the scene in 2020. Square Enix also highlighted Life is Strange 2, Dying Light 2, Battalion 1944, Oninaki, and the Re:Mind DLC coming to Kingdom Hearts 3 this winter. As revealed on Sunday, the expansion will include Roxas, Aqua, and Riku as playable characters and a new Keyblade transformation for Sora.
Bulletstorm developer People Can Fly unveiled their new IP, Outriders. The dark sci-fi shooter, which explores the hostile and unforgiving world of Enoch, will launch in summer 2020. Fans can expect to hear more about the game this winter, with People Can Fly promising a "strong story you can enjoy with your friends or on your own."
Square Enix closed out the show with a first look at the Crystal Dynamics/Marvel collaboration Marvel's Avengers. Marvel Games made it clear that the title incorporates Crystal's unique interpretation of the iconic characters, telling an original story. The game will deliver a multi-year narrative, with additional heroes delivered for free in every region. Marvel's Avengers launches on PlayStation 4, Xbox One, Google Stadia, and PC on May 15, 2020.