Destiny 2 Cross-Play Could Come Someday, Says Bungie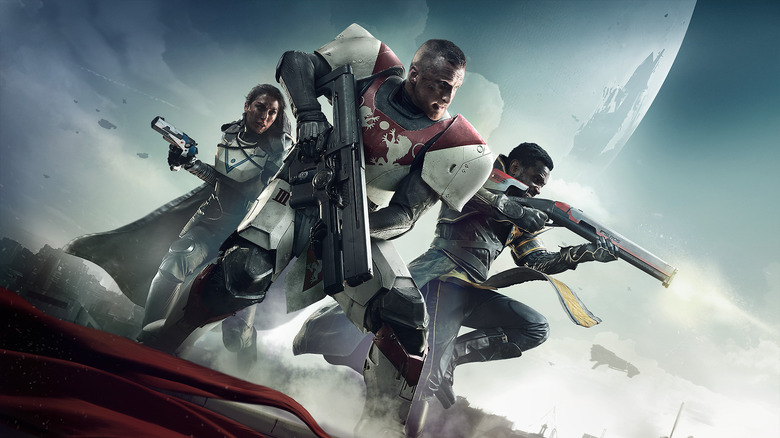 Want to play Destiny 2 with your friends on other platforms without having to leave your own? That could be in the cards, according to a Kotaku interview with Bungie's Luke Smith and Mark Noseworthy.
The interview, conducted by Kotaku's Jason Schreier during E3, hits on a number of Destiny 2-related topics and is definitely worth a listen in its entirety. But those who wish Bungie took an additional step past its recent cross-save announcement might want to pay attention to one part in particular. It had to do with cross-play. And when Schreier posed a question about the omission of cross-play to Smith and Noseworthy, he got a very interesting response.
"Cross-play is definitely a part of achieving that total vision," Noseworthy said, referring to Bungie's desire to let fans play Destiny 2 anywhere they want with whoever they want. Noseworthy later added, "Cross-play is something we definitely talked about and looked at and are building plans around, but we can't say when it's gonna land right now."
It certainly sounds as though Bungie would like to get cross-play implemented in some fashion. Other live service games are starting to lean into this sort of play-anywhere mentality, enabling players to stay engaged regardless of what platform they're playing on. Fortnite really kicked the movement into gear, introducing cross-play and cross-save on just about every modern platform imaginable. And more recently, Dauntless arrived on multiple platforms with cross-play right of the gate.
Destiny 2 is undergoing a lot of very big changes in the months ahead. Cross-save is one, of course. But the game is also relocating away from the Battle.net launcher on PC to its new home on Steam. From Noseworthy's later remarks, Bungie might have simply been too busy to look at adding other features ahead of the Shadowkeep expansion's launch in September. But the future looks very promising in terms of cross-play eventually being added to Destiny 2. It sounds like a piece of the puzzle that Bungie is trying to assemble in order to make Destiny 2 a bigger game, and if the developers feel it's essential to their 'vision', we might get it a lot sooner than we think.
In the meantime, we'll be waiting here for more news on Destiny 2: Shadowkeep, which arrives on Tuesday, Sept. 17.