The Witcher 3 Is Coming To Switch, But Sacrifices Were Made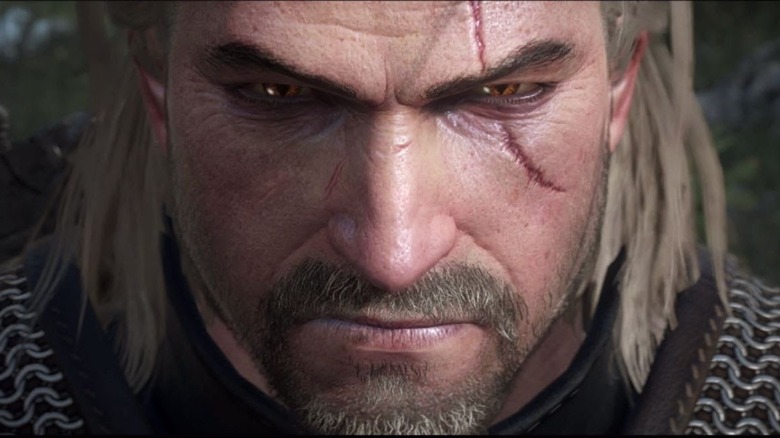 How entirely bonkers is it that The Witcher 3 is getting a release on Nintendo Switch? Yes, the game is coming — with all of its DLC — to Nintendo's console sometime this year. But some very tough development decisions had to be made in order for it to happen.
Advertisement
According to the official Witcher account on Twitter, The Witcher 3 will run at 540p while in handheld mode. That's a pretty decent step down from the display's native 720p resolution, which means the game isn't going to look quite as sharp as some other Switch titles. The graphical downgrade will be very noticeable, however, when the Switch is docked and you're playing on a larger television. There, the game will run at 720p with dynamic resolution scaling, which means that The Witcher 3's resolution will likely drop down when the on-screen action gets too intense, or when there are a whole lot of assets visible at once.
We aren't quite sure how low the dynamic resolution scaling will take The Witcher 3 on Switch, but if you're playing on a large 1080p screen and it dips significantly below 720p, you're almost certainly going to notice.
Advertisement
Fortunately, when we're not sure, there's usually someone who is. And this time, we're leaning on analysis from Digital Foundry in order to get a better sense of how The Witcher 3 performs on the Nintendo Switch.
According to Digital Foundry, there's good news for The Switcher 3, as we're hoping everyone will call it. It appears that, while docked, the game hits its 720p target resolution more often than not. And yes, that kind of performance does mean that The Witcher 3 on Switch has scaled back in some ways; chiefly in areas like draw distance and the amount of detail you'll see in textures.
It's important to note, however, that Digital Foundry was working off of The Witcher 3's Switch trailer, which is presumably showing the game in its docked state. So we can't say for sure how The Witcher 3 performs in the Switch's portable mode. But as is often the case, lower resolutions tend to look better on smaller displays. So if The Witcher 3 can keep a consistent 540p in handheld mode on the Switch's 720p display, the game might not look discernibly different. And that's great news for those who use their Switch primarily as a portable.
All in all, Nintendo Switch owners should be able to look forward to a smooth-running port of CD Projekt Red's massive RPG. At the very least, the game will stay true to the way it plays on PC and other consoles. And The Witcher 3, remarkably, will fit entirely on one Nintendo Switch cartridge without any required content downloads. In an era where more and more Switch titles are choosing to cheap out on cartridge sizes in order to save money, CD Projekt Red deserves a bit of credit for ensuring players can enjoy the entire Witcher 3 experience on one cart.
Advertisement
Is there some loss in graphical fidelity? Sure. The Switch isn't a powerhouse by any stretch of the imagination, so it'll never run games in comparable way to more powerful PCs and consoles. But such is the cost of getting such a massive game to run on Nintendo's tiny little hybrid, though. The Switch is, for all intents and purposes, a tablet, so having something like The Witcher 3 playable on it is a marvel in its own right. And its presence really puts to bed all of the excuses that developers have been making about why their games won't work on Nintendo's machine. Is the Switch underpowered compared to just about every other console out there? Absolutely. Did that stop CD Projekt Red from taking a stab at it and succeeding, even if it meant The Witcher 3 took a hit in the graphics department? No.
With that, we'll be eagerly awaiting ports of all those other games that were too large and complex for the Switch to handle. And we'll also be awaiting news on when exactly The Witcher 3 will come to the system and how much it'll cost. All we have right now is the 2019 release window, but we'll be sure to update you once we know more.