Microsoft Once Again Takes The E3 Viewership Crown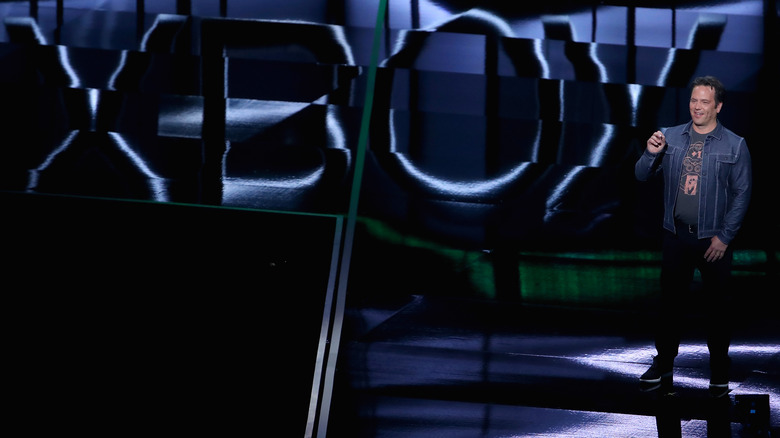 Christian Petersen/Getty Images
Did Microsoft and the Xbox brand benefit from Sony's absence at E3 this year? It's tough to tell. On one hand, the company held the most-watched press conference of E3 2019, with 1.5 million viewers streaming the show from around the world. On the other hand, though, this is the third straight year Microsoft's conference has topped the charts. That might come as a surprise to some.
According to Twinfinite, Microsoft's E3 2019 viewership of 1.5 million put it ahead of Ubisoft (1.4 million), Bethesda (1.2 million), Square Enix (888k), the PC Gaming Show (853k), Nintendo's Direct (728k), Devolver Digital (678k), and EA's Play event (463k). And we can take away from that one of two things: either people are interested in seeing what Microsoft has to say, as the company has typically announced some pretty major moves at its show; or Microsoft simply has the better time slot.
Interestingly, however, just about everyone lost viewers from last year's show. Whether it was just an off year for gaming (as the next generation revs up) or E3 is truly losing a bit of relevance, we can't say for certain.
Another surprise from the viewership rankings is how EA performed. EA hasn't ever really had a strong showing at E3, and was in last place for E3 2018, as well. But the company's decision to forego a more glitzy show in favor of targeted streams didn't seem to help the company get any traction. EA still wound up with far fewer people watching than any other company, despite being one of the more high-profile publishers in the industry. And it's safe to say: when Devolver Digital is wiping the floor with you, that is not a good place to be. Seriously, how does that happen when your company has a AAA Star Wars game to show the world? Yikes.
We'll have to see how next year's show shakes out before we can truly make a call on E3 as an event. If Sony comes back, all major players still have a show, and viewership continues to decline, then one might be able to make a case that E3 is no longer the juggernaut it once was. But it seems for now that, despite E3 being watched by less people overall, Microsoft is doing something right when it comes to when and how it's presenting its goods. The company may not be winning the console war, and it may not always have the best show overall. But Microsoft is definitely winning in terms of getting people to tune in. That could be helpful.