Killing Floor 2 Kicks Off Summer Event With New Map And Game Mode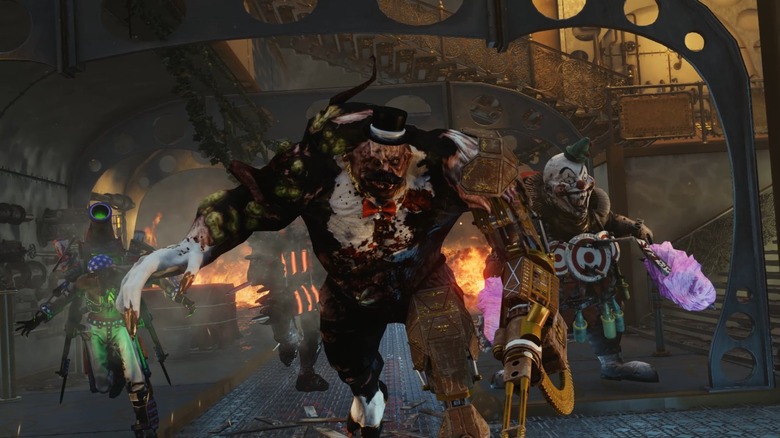 Back & Kickin' Brass, Killing Floor 2's steampunk-themed summer event went live today. The update includes a new game mode, map, weapons, cosmetics, music, and interface improvements.
In the latest game mode, Objective, you'll rush to complete set tasks while fending off waves of Zeds. Each map comes with a set number of waves and you must achieve your objective to proceed to the next round. "Objective mode brings unique animations, interface elements, environmental tasks, special effects, cinematics, and more all together to create a fresh narrative experience for Killing Floor 2 players," says the official announcement.
Advertisement
Steam Fortress, the new map, transports you to Lockheart's metal stronghold. There, you'll help Lockheart launch a lunar assault by repairing and refueling his rocket. You'll also assist Dr. Ogada Buyu in investigating the Horzine plane crash and retrieving server data from the abandoned Horzine base. Steam Fortress adds two new objective types: Transport and Exterminate. 
Back & Kickin' Brass livens things up with two new weapons. The Seal Squeal is an explosive semi-automatic harpoon launcher that lets you set off timed explosions. The harpoons also pin enemies you kill to any solid surfaces they impact with. In contrast, the Hemoclobber encourages you to bludgeon your friends back to life, healing players on impact. You can also use it to clobber enemies, dealing toxic damage to Zeds.
Advertisement
Prestige rank 5 went live today, bringing with it new rank 5 prestige skins. The season also introduces new Steam achievements and limited time objectives, event tickets, and cosmetics. Complete summer missions to unlock last year's Steampunk Outfit and the brand new M99 AMR Steampunk Precious weapon skin.
Additional interface improvements round out the update, including an objective tracker, updated health bars, and legibility enhancements. New musical compositions from Sigurd Jøhnk-Jensen and Rocky Gray have also been added.