Five Games Added To PlayStation Hits, Including Horizon Zero Dawn And Nioh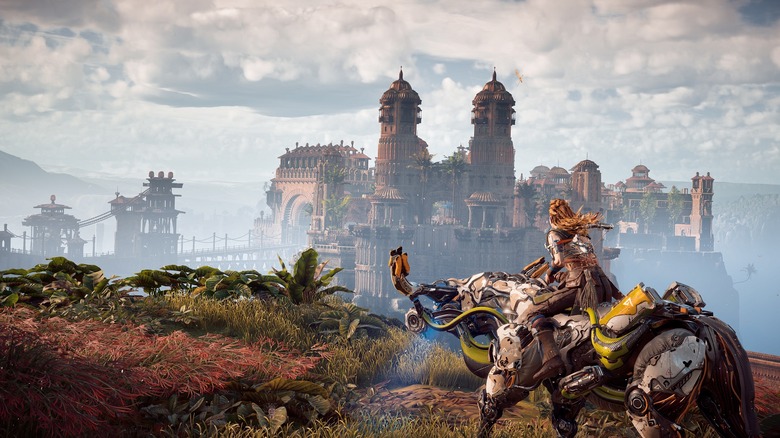 PlayStation 4 owners will have five new games to save on starting June 28, when a fresh collection of PlayStation Hits titles make their way to the discount program.
Horizon Zero Dawn: Complete Edition includes both the 2017 base game and its Frozen Wilds expansion from later that year; a complete steal for anyone who's never gotten the chance to experience Guerrilla Games' fantastic open world title.
Nioh made waves when it arrived in early 2017, blending its Souls-like feel with the type of action Team Ninja has become known for over the years. There are plenty of people waiting to get in line for Nioh 2, but you'll soon be able to pick up the first title at a discount to hold you over.
Resident Evil 7 took a sharp turn away from the action-game experience pushed by the previous few titles in the series, leaning hard into what made Resident Evil great in the first place: horror. Now you can dive in and see it for yourself (while you're waiting for the Resident Evil 2 remake to drop its price).
God of War 3 Remastered put a fresh coat of paint on Sony Santa Monica's 2010 entry in the series, and we have to say: it's definitely an interesting play if you're a little vague on what the franchise used to be, or if your first taste came with 2018's God of War reboot.
And what can we say about Friday the 13th, other than it's the kind of game you'll want some friends around for? This game didn't have the greatest launch, with all the jank and bugginess found throughout. But things have cleared up quite a bit since then, so if you've ever dreamed of stalking your pals as Jason, there's no better time than now.
The PlayStation Hits program takes best-selling PlayStation titles and discounts them dramatically, knocking them all down to the low, low price of $19.99. So if you have a spare twenty burning a hole in your pocket and you've been looking for a new game to play, you now have Horizon Zero Dawn: Complete Edition, Nioh, Resident Evil 7, God of War 3 Remastered, and Friday the 13th well within your price range.
We'll let you know if any other titles are added to PlayStation Hits in the future.