Disaster Report 4 Hits PS4, Switch, And PC In Early 2020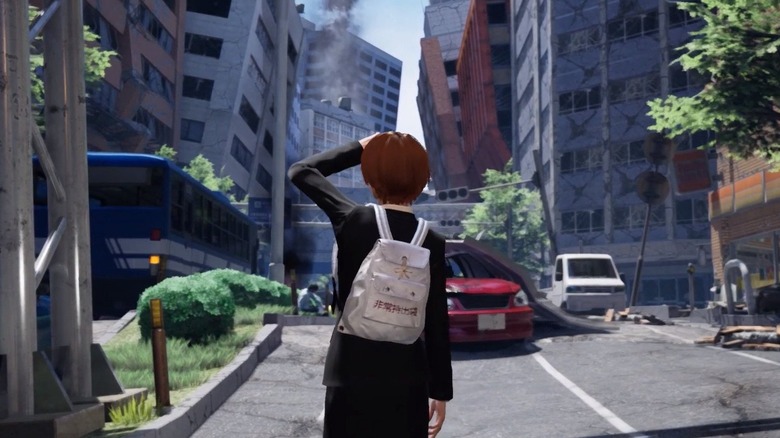 NIS America has announced Disaster Report 4: Summer Memories – First Impact, the latest installment in the disaster survival series. The game, which first released on the PS4 in Japan, will finally make its way to North America at the start of next year.
"When a massive earthquake strikes your city, you find yourself at the epicenter of a chaotic and catastrophic crisis," teases the official description. "It is up to you rise above the calamity, collect your thoughts and your fellow survivors, and outlast the disaster. Aftershocks, fire, falling buildings and debris, and unstable ground are but a few of the threats you will face in these nightmarish circumstances. What will you do when every passing second and every snap decision could spell the difference between life and death?"
Disaster Report 4 brings a few new features to the franchise. Players can enter collapsed buildings and discover new items such as crutches, a key bit of equipment when the main character suffers leg injuries. A new cleanliness parameter determines the character's stress level. Getting too dirty will have adverse effects while important yet mundane tasks such as using the bathroom will increase the parameter.
The game was first helmed by Japanese developer and publisher Irem for the PS3 with a planned March 10, 2011 release date. Irem delayed the game because of time constraints. The company later cancelled the project in the wake of the Tohoku earthquake and tsunami on March 11, 2011, one day after Disaster Report 4's original launch target.
The Disaster Report series got its start on the PlayStation 2 as Zettai Zetsumei Toshi (The Desperate City) in 2002 before coming to the West the following year via publisher Agetec. In December 2014, developer Granzella announced they had acquired the Disaster Report IP from Irem. According to a Gematsu interview with designer and director Kazuma Kujo, Granzella is already considering a sequel to Disaster Report 4, which sold 42,272 copies during the week of its debut.
Disaster Report 4 debuts in North America on PlayStation 4, Switch, and PC in early 2020.