Space Adventure Rebel Galaxy Is Free This Week On The Epic Games Store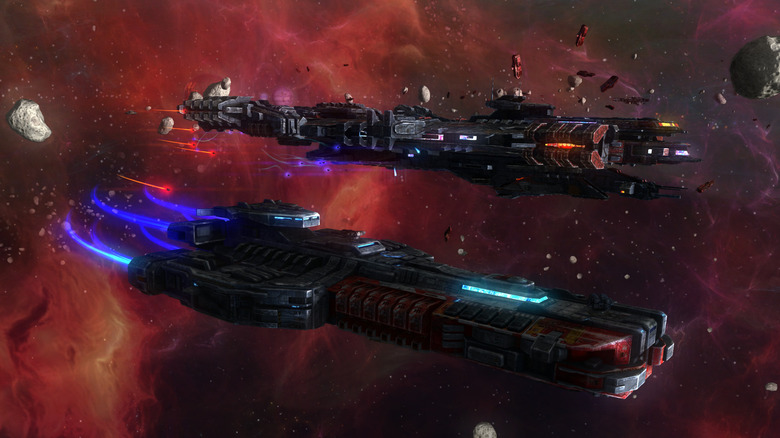 With the advent of Epic's free weekly game schedule, Epic account holders can enjoy a more robust lineup of games. The switch to the new format comes with a key trade-off: a shorter window to download the titles. This week's free PC game is no exception to that rule, so, don't wait too long to claim space-sim Rebel Galaxy.
A single-player space adventure, Rebel Galaxy places you at the helm of a powerful star destroyer. The action unfolds in a randomly generated universe where you'll oversee every aspect of your character's life. From combat and exploration to trade and negotiation, Rebel Galaxy has everything you'd expect to encounter and more while exploring the greatest frontier.
"You'll battle pirates, explore anomalies, befriend aliens, scavenge battle wreckage, mine asteroids, and discover artifacts," says the official description. "Choose your path as a roguish do-gooder, crafty space-trader or power-hungry privateer in this swashbuckling space adventure."
Following its PC launch in 2015, Rebel Galaxy received positive reviews from critics. Tim Turi of Game Informer gave it a 7.5, praising the game's concept and accessibility for new players while taking points off for repetitive gameplay. "If you've ever wondered what Han Solo might have been up to before he met Luke and Obi-Wan in a certain Mos Eisley cantina, Rebel Galaxy does its best to deliver that fantasy but suffers from stretches of repetition," said Turi.
You can claim Rebel Galaxy for free from now until Thursday, June 27. You need an Epic account to snag the game; once you do, it's yours for the long haul. Epic's free weekly games promotion will continue until the end of 2019. If space simulators aren't your jam, check back for more free titles. Last Day of June, 505 Games' interactive, cinematic adventure, will take over the free game slot next week.