GTA Online's Diamond Casino & Resort Opens For Business This Summer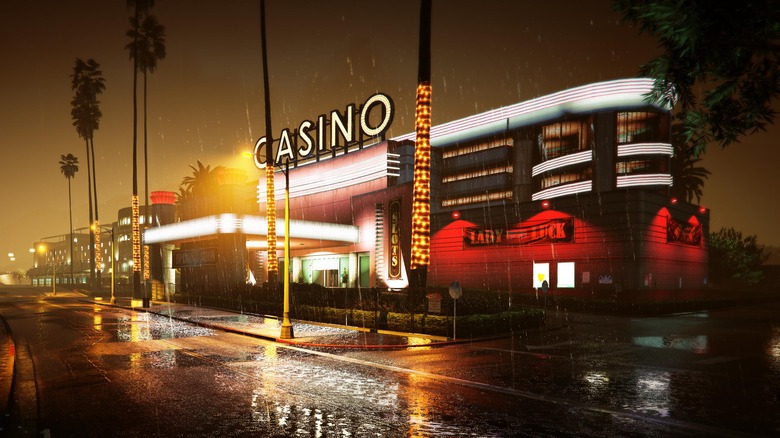 Last week, Rockstar teased the opening of the Vinewood Casino, a swanky establishment that launched with GTA Online but remained inaccessible to players. Today, the company revealed that the high-roller joint would finally open its doors under the name The Diamond Casino and Resort.
"With something for everyone, The Diamond Casino & Resort will feature lavish amenities, exclusive shopping, first-class entertainment and state-of-the-art gaming facilities," says the official announcement. "Whether you're having a night on the town with friends or a seeking a brief solitary escape, The Diamond Casino & Resort is open to one and all. Come experience the tasteful luxury that the Diamond has to offer including best-in-class concierge, valet parking, the exhilaration of spinning the Lucky Wheel for a chance at life-changing prizes, a finely curated selection of spirits at the bars and lounges, a range of sophisticated table games and much more."
Rockstar has yet to provide details on the new mechanics, missions, and special events the casino will bring to the table. Given the nature of the complex, billed as "the largest and most extravagant addition to the sprawling metropolis of Los Santos," this could prove a bright new chapter in the GTA Online experience. 
The Diamond Casino & Resort is the latest in a long stream of content Rockstar has released for the online component of Grand Theft Auto 5. This ongoing support has kept the game on the top 20 sales list month-after-month and made GTA 5 the best-selling PlayStation 4 title of all-time as of May 2019. Red Dead Redemption 2, Rockstar's latest title, claimed the number 2 spot, making it clear the publisher has cracked the best-sellers formula.
Stay tuned for more details about the grand opening of The Diamond Casino & Resort later this summer. In the meantime, Rockstar is offering double rewards on all Freemode Events, Business Battles, and Gang Attacks this week, among other GTA Online bonuses and discounts.