Fortnite's Summer Event Brings 14 Days Of Unvaulted Weapons And LTMs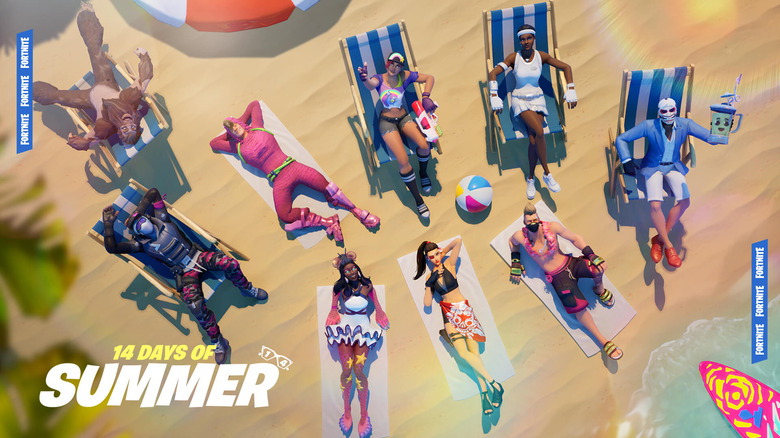 Epic Games has closed their doors for a much-needed vacation. Before they left, the team lined up two weeks of content for Fortnite players to enjoy during their absence. 
The 14 Days of Summer event has gone live, bringing a host of summertime nostalgia. Each day, Battle Royale players can enjoy a new Limited Time Mode, daily challenge, and an unvaulted weapon. Creative players will find a new featured island every 24 hours. Meanwhile, Epic has tasked Save the World players with hosting the ultimate summer party. Login daily to complete quests and earn Summer Tickets. Completing all 14 quest will reward you with an explosive new weapon.
The developer announced their planned holiday alongside information about Fortnite's World Cup Online Week 10. During the break, the team will not be running any Fortnite Competitive Tournaments; however, new modes and returning weapons should shake things up in the interim. Epic has not provided a list of the weapons breaking out of the vault. For a taste of what they have in store, you can check out all the items removed from the game on the Fortnite Wiki.
Epic provided a list of the Limited Time Modes scheduled to pop up throughout the event. Here's a preview of what you have to look forward to:
Heavy Metal Squads
Storm Chasers: Surfin' (squads)
Splashdown Squads
Power Up Solos
Leave None Behind Duos
Use With Care Duos
Headshots Duos
Tank Battle Squads
Builders Paradise Squads
Wick's Bounty Duos
Arsenal (Solos)
Rumble Squads
Loadout Swap Squads
Strategic Structures Squads
According to the Fortnite Team, the Limited Time Modes will appear in a random order, so, you'll need to login to see what they've uncovered. You can check out breakdowns of the featured LTMs on the 14 Days of Summer announcement page. The special event starts today and runs until July 8th.