Commodore 64 To Get The Classic Console Treatment This December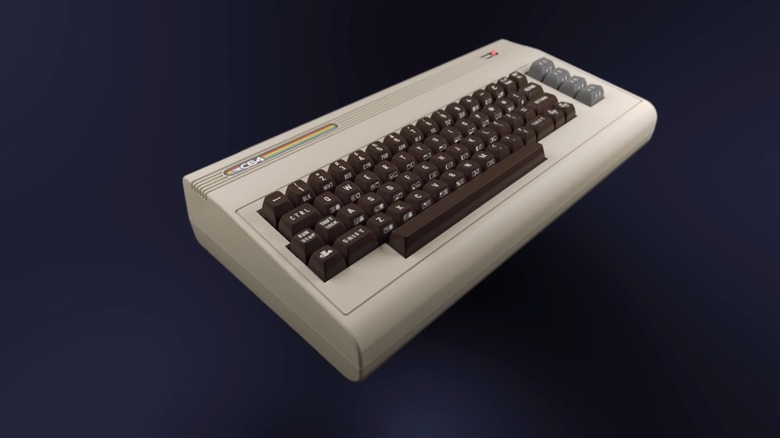 We're deep in the midst of a retro revival now. First came the NES Classic, then the SNES Classic, followed by the PlayStation Classic. Sega's Genesis Mini arrives later this year. Why not a Commodore 64 remake, too?
We're getting one, according to GamesIndustry.biz.
The original Commodore 64 debuted in 1982, before many of us were even present on Planet Earth to draw breath, much less write about video games. But there's still enough of a following for this old-school, 8-bit home computer that the folks at Retro Games and Koch Media saw an opportunity. And the product they're creating to fill the void is simply called the Commodore 64.
This is no Classic. This is no Mini. This thing is every bit as bulky as the original, with a full-sized keyboard and that beige plastic casing every computer seemed to have in the '80s.
There are, of course, the modern amenities you might expect. The system comes packed full of games (64 in total), such as Attack of the Mutant Camels and Gridrunner, so you won't have to go hunting the flea markets for old software. The updated Commodore 64 also works with today's televisions, as well, so you won't need to lug that old CRT out of the basement (but seriously, if you still have one of those, why?). And for good measure, the new C64 tosses in a Micro Switch Joystick to give you that throwback arcade feel if you so desire it.
The biggest question we have about the new Commodore 64 is, will we get it in the West?
At this point in time, the Commodore 64's price is only listed in pounds and euros, and the system can only be pre-ordered from Game in the United Kingdom and Amazon in Germany. With a bit of currency conversion, we're guessing the C64 would land somewhere between $137 and $140 here, and wow, that would definitely make it the most expensive retro console to date. The PlayStation Classic's $100 price point certainly hurt more than it helped, so it's anyone's guess as to how the Commodore 64 would sell at an even higher price. But to know for sure, it would actually have to sell here.
It looks possible — the C64 coming West, that is — as the system's official website has a few region slots open with a "TBC" label, indicating that Retro Games and Koch Media haven't quite nailed down distribution for the rest of the world just yet. Until those are filled in, we'll have to cross our fingers and wait.
The updated Commodore 64 arrives on Dec. 5, 2019. Should we hear more about a potential Western launch, we'll let you know.