Jedi: Fallen Order's Extended Demo Definitely Shows More Of The Game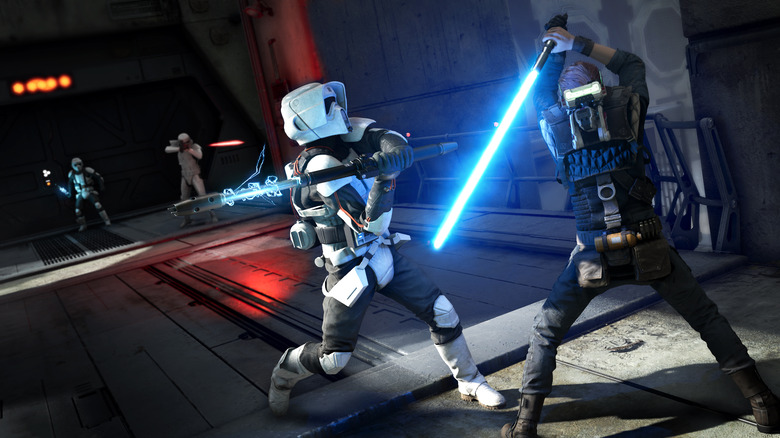 What is it with EA and this Star Wars license? Thank goodness for the extended demo footage the company dropped today for Star Wars Jedi: Fallen Order, because it does a much better job showing off the game than EA's E3 stream did.
Advertisement
You can watch the almost 27-minute-long video here. And more likely than not, you'll marvel at all of the things EA didn't show the general public when Jedi: Fallen Order got its time during the EA Play event at E3. Jedi: Fallen Order largely came across as a cinematic third-person action-adventure title; a fairly generic description that is apt because the EA Play demo didn't show much to differentiate the game.  But those present at a behind-closed-doors showing of the title got a much closer look at it. That's what we're seeing today.
For instance, did you know that Jedi: Fallen Order has Metroidvania elements, with upgrades that encourage further exploration of the game's universe? That's something you wouldn't have gleaned from the EA Play stream. And how about the dialogue choices you can make throughout? For goodness sake, if there are things that clearly set this game apart from the previous Battlefront titles, why wouldn't they be front and center?
Advertisement
IGN's James Duggan — who clearly has a breadth of knowledge about all things Star Wars – managed to find 19 interesting tidbits about Jedi: Fallen Order in the new gameplay demo, and they were all previously unknown to the world at large before this video made its way online. And that just makes the whole EA Play stream feel like a missed opportunity. It failed to tell the world that the Star Wars game we're getting is the kind we haven't seen in quite some time. And it really undersold the work done by Respawn Entertainment, stepping into a new genre for the first time after knocking it out of the park with its first-person shooters.
Star Wars Jedi: Fallen Order arrives on Nov. 15, 2019. Hopefully EA can get this game in front of everyone a few more times before then. In the meantime, you should definitely watch the demo footage; there's a unique-looking Star Wars game in there.