Here's Why BTS World Is Trending On Twitter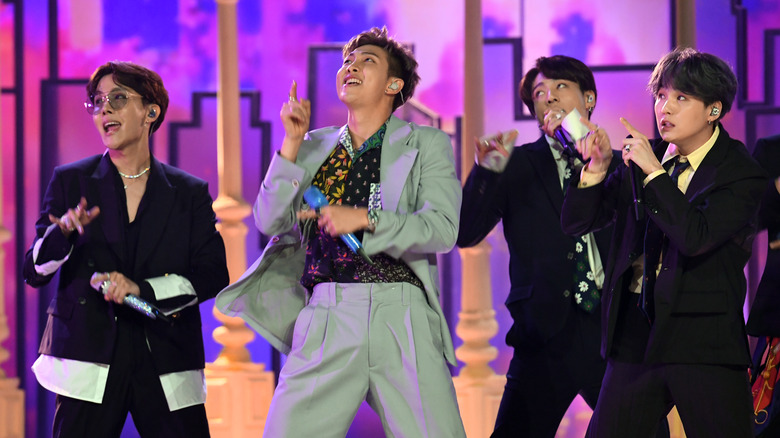 Kevin Winter/Getty Images
You might've noticed numerous tweets flying around Twitter today, making reference to K-Pop boy band BTS using the hashtag #BTSWorld. Clicking on the hashtag, however, probably didn't give you the answers you were searching for.
Advertisement
What is #BTSWorld? Why is it trending today? And why on earth should you care about it? Get ready: we're about to lay out the entire explanation for you in what is likely excessive detail.
A brand new mobile game called BTS World launched today, starring — you guessed it — every member of BTS. Jin, Suga, J-Hope, RM, Jimin, V, Jungkook; the gang's all here, and in BTS World, you get to play the role of the band's manager at a studio called Big Hit.
As the manager of BTS, it's your job to help the group achieve superstardom. Not only that, you get to befriend the various group members along the way and help them through some of the issues they're facing. You'll receive in-game texts from the BTS boys, as well as phone calls and video chats.
Advertisement
That alone should be enough to put any die-hard BTS fan over the top in terms of how high-pitched the shrieks are and how loud they get. Yes, little one: you did just get a text from J-Hope. Cherish it.
But don't think there won't be some rocky moments in BTS World. Throughout the game, some members will reportedly question whether they want to be a part of the group at all. Oh, the horror! It'll be up to you to keep the group together, steer everyone down the right path, and help BTS fulfill its ultimate destiny: to become a worldwide sensation that eventually inspires the creation of a mobile game that takes over Twitter's trending section.
As for what genre this particular title fits into, we're honestly not one-hundred-percent sure. It sounds an awful lot like a visual novel type of experience with some interactive bits thrown in for good measure, but the game's Google Play description also mentions the inclusion of the mystery, comedy, and sports genres. So you could be investigating the disappearance of the group's bowl of red-only M&Ms while cracking jokes about boy bands being around in 2019 while also dribbling a soccer ball.
We'll have to dive in ourselves to see how all of these genres come together; for now, we can only guess.
Advertisement
Luckily for us, details on the game aren't the only thing the Google Play Store had to provide. Reviews are coming in for BTS World, and it seems to already be making a lot of BTS fans very happy.
"Everything about this game is addicting and fun especially for die hard fans of BTS!" said one review.
"This game is so fun! I couldn't stop playing once I started," said another.
And of course, the people of Twitter have been weighing in on how they feel about BTS World. Rather surprisingly, however, we managed to find some criticism regarding the game's target audience.
One Twitter user in particular — @ennrjb — seemed to take issue with the fact that BTS World just assumes you're a girl playing as the group's manager. While the group certainly does have a lot of female fans, it seems rather strange that BTS World would be so dismissive of a still-sizable portion of its fan base. On top of that, there are apparently some moments in the game that might make adult fans of BTS a little uncomfortable, such as flirting with the members (who are teenagers).
Add "expensive in-game purchases" to the equation, and you might start to feel a little put off by BTS World. This game seems to be aimed directly at teen girls — some of whom are extremely passionate about BTS — and it has microtransactions? That is very far from, in the words of BTS, "dope."
Advertisement
We'll have to wait and see if there's any further backlash from male BTS fans, adult fans, and those who don't think microtransactions should be targeted at kids. In the meantime, you've officially been clued in as to why #BTSWorld is trending on Twitter today. If you're interested in picking up the game yourself, you can download it right now from the iOS App Store and Android's Google Play Store.