Pro Evolution Soccer 2019 And Horizon Chase Turbo Are July's Free PlayStation Plus Games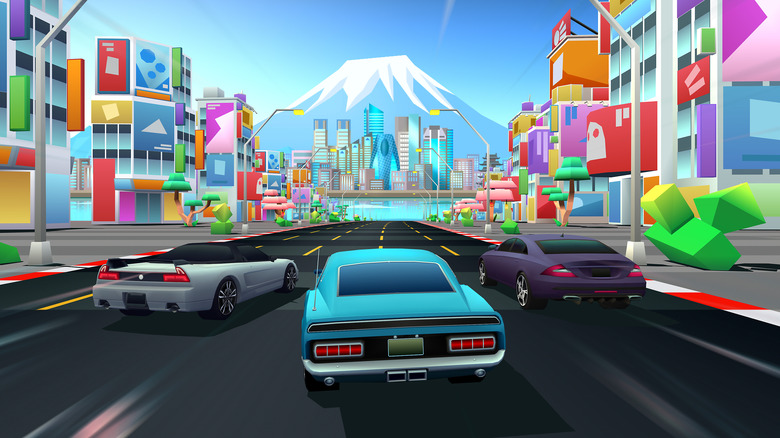 If you're a sports fan and a PlayStation Plus subscriber, July will be your month. Sony has announced the latest duo of free games coming to the service: Pro Evolution Soccer 2019 and Horizon Chase Turbo.
Advertisement
Soccer simulator Pro Evolution Soccer 2019 is the latest entry in Konami's long-running sports franchise. A key competitor of the FIFA series from EA Sports, PES has built a strong foundation on its gameplay. Unfortunately, A lack of licensed teams, leagues, stadiums, and events has kept the Pro Evolution Soccer games in FIFA's shadow. PES 2019 will arrive days before the 2019 Women's World Cup final; however, you won't find World Cup content in the game. FIFA runs the World Cup, for which EA Sports holds the license.
Horizon Chase Turbo, an indie racer from Aquiris Game Studio, released last year to a strong reception. Inspired by classic arcade games, Horizon Chase Turbo includes Multiplayer Split Screen support, fast pacing, and a wealth of tracks and trophies. The game has a 10/10 on Steam, with players praising its retro charm and Top Gear-flavored nostalgia.
Advertisement
Destructoid's Joel Peterson gave Horizon Chase Turbo an 8.5, highlighting the racer's variety of tracks and cars and addictive gameplay. "Beyond the ability to play every track split-screen with multiple players, and a more traditional Championship mode, the fact that the game also boasts over 100 tracks and around 30 unlockable vehicles makes for not only a wonderful down-to-Earth arcade racing experience, but also effectively makes Horizon Chase Turbo the best Top Gear game ever made, even if it doesn't boast the name of the original IP," said Peterson.
PlayStation Plus members have a few days left to pick up June's free titles. Sonic Mania, which commemorated the 25th anniversary of the Sonic the Hedgehog series, pays homage to the original Sega Genesis side-scrollers. Loot-shooter fans can also snag Borderlands: The Handsome Collection, a bundle that includes Borderlands 2 and Borderlands: The Pre-sequel.