Spider-Man On PS4 Will Soon Get Far From Home Suits As Free DLC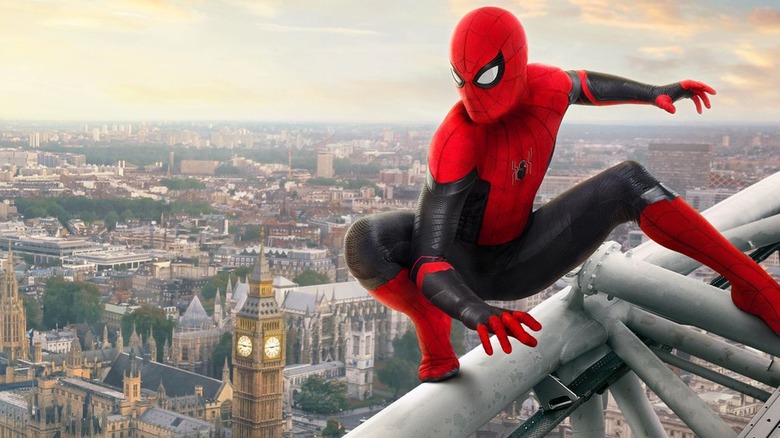 Spider-Man on PlayStation 4 appears set to receive even more new Spidey suits; this time from the film Spider-Man: Far From Home, which releases today.
According to IGN, the news came courtesy of PlayStation Japan, which tweeted an announcement that the Insomniac-developed Spider-Man title would receive both Peter's Upgrade Suit as well as his Stealth Suit from the movie Spider-Man: Far From Home. In a strange turn of events, however, the tweet from PlayStation Japan has since been deleted, which could mean the account jumped the gun on revealing the suits.
Advertisement
It happens.
In the meantime, let's take a moment to marvel (eh?) at how much content has come to Spider-Man since it released last September. The game received an episodic DLC adventure post-release called The City that Never Sleeps, which introduced new enemies and brought Black Cat back into the fold. And there have been a lot of suits doled out in the months following Spider-Man's launch. Fans now have access to: Spider-UK; Scarlet Spider 2; the Resilient Suit; Mangaverse Spider-Man; the Iron Spider; Spider Armor MK 1; the Into the Spiderverse suit; Cyborg Spider-Man; and Aaron Aikman's alternative version of Spider-Man.
And yes, Insomniac even released a Spider-Man suit based on Sam Raimi's early 2000s trilogy. The news on that one was pretty hard to miss: it involved large swathes of the internet complaining in unison about a thing that — as it turns out — Insomniac had been working on the entire time. Much crow was eaten when the Raimi suit was released on Dec. 20, 2018. Much crow, indeed.
Advertisement
It's looking pretty likely that we'll see the Far From Home suits drop sometime in the near future. Someone at PlayStation Japan may be getting their hands slapped with a ruler at this time, but we're sure that tweet was queued up and ready to go for the right moment, even if that moment wasn't earlier today. Should the suits get an official announcement, we'll let you know.