How To Play Co-Op In Super Mario Maker 2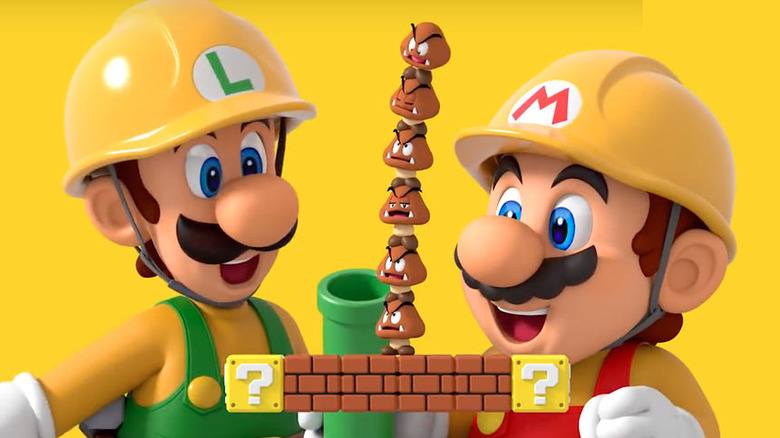 Super Mario Maker 2 adds a new wrinkle to your home-made levels: multiplayer. In Super Mario Maker 2, you can race against random foes in an online competitive mode, or you can team up with other players to try and complete a course together.
In fact, there are a few different ways to play cooperatively in Super Mario Maker 2, and it's not always clear how. If you want to partner with a bunch of random people online, that's pretty easy. Go to "Course World," choose "Network Play," and select "Multiplayer Co-Op." That's it!
You can also play co-op with another person in the same room, but that takes a little longer to set up. First, you'll need to go to Course World and find the level you're interested in (it doesn't have to be tagged for co-op — any level will do). Next, click on "Download" and save the level to an empty slot. Get your co-op partner ready, navigate to "Course Bot," choose the level you just downloaded, and hit the "Play Together" button. Activate your controllers and start playing.
If you and your friends each have a Switch and a copy of Super Mario Maker 2, and at least one person has a Switch Online membership, it's a little simpler. When you're all on the same wi-fi network, have the player with the Switch Online membership choose "Make a Room" from Course World's "Network Play" menu. Everyone else should select "Find a Room." That will let you link consoles and play a random selection of levels both competitively or cooperatively.
Finally, if you want to make levels with a buddy, simply open up Course Maker and select the "Co-Op Making" button on the left side of the screen. Just be warned: in co-op building mode, you must use the Joy-Cons to control the editor, and player two's actions are limited. It's not quite as fun as it sounds.