Hitman 2's July Roadmap Details Month Of Music-Themed Content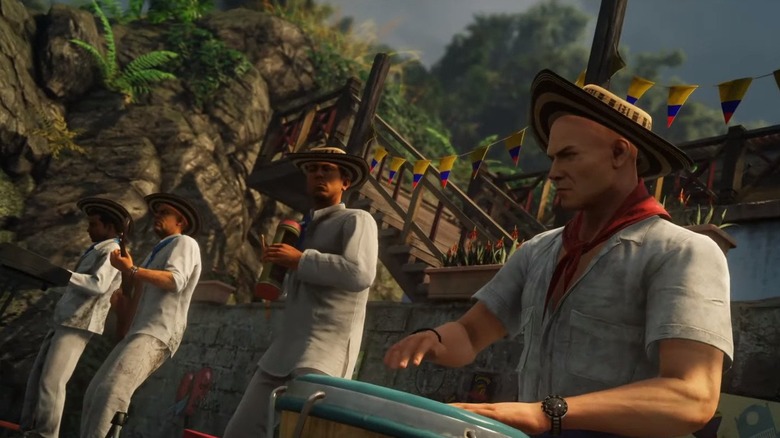 IO Interactive has released the July Roadmap for Hitman 2, breaking down the new content coming to the game as part of this month's "Jungle Music" theme.
A new Escalation Contract gets the party going tomorrow, July 3. In the Babayeva Dissonance, you'll call upon Agent 47's skillset to "take care of the musicians and stop the music." The contract includes three stages which will require precision shooting and explosives expertise, among other talents.
Advertisement
July 11 introduces the "I'm with the Band" Challenge Pack. Players who've dreamed of attaining musical glory can join the famous Santa Fortuna band. Propel your band  to success by completing five new challenges. You'll unlock a shiny new Violin for your troubles.
IO Interactive is calling for Featured Contract submissions that fit the theme of "TONE DEATH." Contract creators have until July 15 at 9 a.m. CEST to turn in their ideas via the Featured Contracts Submission Thread.
July 19 marks the return of The Badboy. This Legacy Elusive target will be in Sapienza for 10 days. You must own the Legacy Pack to play this Elusive Target so pick it up if you haven't already. Players with a full version of Hitman can download the pack for free; otherwise, it's available to Hitman 2 players for $20.
Advertisement
Blow stuff up and "become the menace of Santa Fortuna" in the Calvino Cacophony Escalation on July 25. Completing the escalation unlocks the stylish Hot Summer Suit.
The Prison, the second Sniper Assassin map, goes live for expansion pass owners on July 30. The Prison offers a break from the summer heat, transporting you to one of the coldest and harshest places on earth: Siberia. Pass owners who achieve full mastery will unlock the Druzhina 34 ICA Arctic.
July 30 is a big day for Hitman 2. Beyond the new Sniper Assassin map, everyone with an IOI Account will receive the full Anniversary Outfit Bundle for free. The next major update will go live on the same day, bringing with it a new Contracts Mode for Hawke's Bay. Check out the official IO Interactive website for more details.