Dauntless Introducing Trials, New Season, And More With Free Update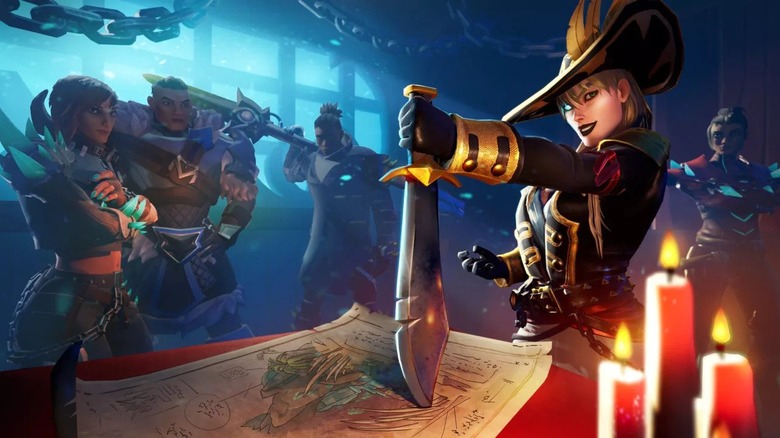 Phoenix Labs has announced Fortune & Glory, the latest free update for its free-to-play monster hunter Dauntless. Fortune & Glory brings a wealth of new content, including Trials, a series of rotating, weekly challenges offering prestigious rewards. 
The update kicks of the High Skies season, introducing a pirate-flavored Hunt Pass alongside Lady Luck, the woman behind the Trials. A second Hunt Pass will continue the season later this summer, though Phoenix Labs has provided no hints about the pass's theme or what's in store for players when it arrives.
"Trials are Slayers' first introduction to Lady Luck, an enigmatic figure who arrives in Ramsgate with an entire island in tow," said Phoenix Labs CEO Jesse Houston. "Lady Luck is the catalyst to kick off Trials in Dauntless, an experience that pits Slayers against difficult Behemoth encounters with unique modifiers and aggressive fauna, ensuring that even veteran Slayers will experience something new and challenging with each Trial."
You can see how you stack up against other Slayers on the Wall of Champions, located outside of Lady Luck's shop. The Wall of Champions displays leaders for both solo and group Trials, giving you the option to go it alone or test your teamwork. Completing Trials will earn you Marks, the game's new currency type. You can use Steel Marks, rewarded for completing Normal difficulty trials, to purchase gameplay-affecting items like weapon mods and alternate specials. Complete Trials with a Dauntless difficulty level to collect Gilded Marks, which you can trade for exclusive cosmetic items.
Phoenix Labs is also adding a new cosmetic modifier slot: the head accessory or "head bling." Lady Luck will have several head accessory items available for purchase at her store, so make sure you check out her wares once the update goes live.
Dauntless is available now for Windows, Xbox One, PlayStation 4, and Nintendo Switch. The Fortune & Glory update releases on July 16.